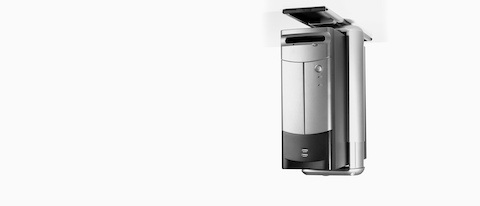 Keep equipment off the surface, yet easily accessible
Supporting CPUs

Space is always at a premium. Take the desktop, for example: no matter what kind of work you do, there never seems to be enough room. Our research of a cross-section of North American organisations found the space crunch is only going to intensify: 90% said workstation size will decrease or stay the same over the next five years.

While space is shrinking, so are central processing units (CPUs). But it's a business reality that organisations can't afford to adopt these new, smaller CPUs everywhere. The result is a squeeze: work areas becoming smaller even while most CPUs are as clunky as ever.
Some people put the CPU on the floor. But that brings problems with trip hazards, damage from cleaning staff and bad ventilation that can cut the life of the CPU. So we've designed a number of ways to gain more room on the desktop without resorting to putting the CPU on the floor.

We always think beyond just freeing up space. All our designs relate to the person using them. Movement is built in, so that people can position the CPU under the surface and away from their legs. Sliding tracks that rotate let people reach the back of the CPU and its connections (which also helps with maintenance and software upgrades).