Sir Nicholas Grimshaw cements 40 year relationship with Herman Miller at opening of new UK manufacturing facility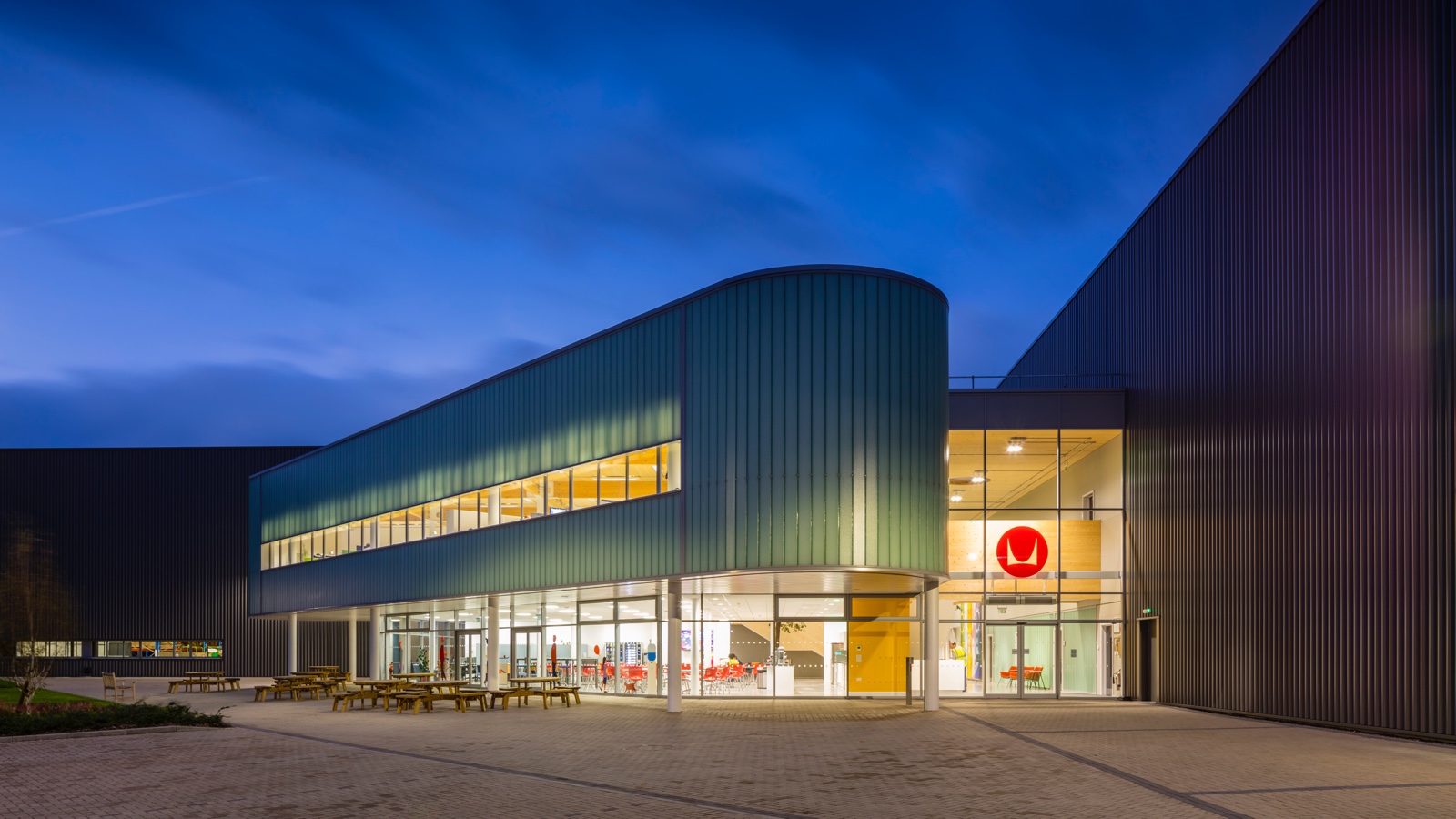 Leading British architect, Sir Nicholas Grimshaw, has opened a new UK manufacturing facility which he designed for furniture manufacturer and workplace pioneer Herman Miller.
Known as PortalMill, the new facility in Melksham, Wiltshire, is the third building Sir Nicholas has collaborated on with Herman Miller. His first project for the company was in 1975 when he was chosen by Max De Pree, son of founder DJ De Pree, who commissioned a custom built factory on the banks of the River Avon in Bath, Somerset when the US manufacturer expanded its UK operations. Described as an 'Action Factory' the innovative building with modular removable panels has recently received a Grade II listing in recognition of its place in industrial architecture. His second building, BlueBuilding, was completed in 1983 and enabled the company to further expand their operations and manufacturing capability.
Speaking at the opening, Sir Nicholas said: "Herman Miller and I both share a unified approach to design and the built environment, so it was a pleasure to work with this revered company again. There are similarities between this building and the original I designed in the 1970's, with democracy of space key to the project and a social hub placed at the heart of the building."
Sir Nicholas was joined at the opening by Herman Miller's Chief Executive Officer Brian Walker.
Mr Walker commented: "I am delighted that I could be here today with Sir Nicholas to open Herman Miller's newest manufacturing facility. PortalMill ensures that we can continue to deliver our award winning office furniture across the UK, Europe and the Middle East, now and into the future. By bringing our wood processing, chair assembly, logistics, research and development and operations teams under one roof our staff can work together more closely to better serve our customers with faster, more efficient solutions."
PortalMill represents Herman Miller's ongoing commitment to UK manufacturing and will ensure a long term presence in the South West, while investing in the future growth of the business supported by a highly skilled workforce. In addition, the new facility will ensure that the company can better respond to customers' needs whilst maintaining the innovative products and high quality that Herman Miller are known for.
About Herman Miller
Herman Miller's inspiring furniture designs, inventive technologies and strategic services help people do great things and organisations perform at their best. The company's award-winning products and services generated approximately $2.1 billion in revenue in fiscal 2015. Their designs can be found not just in offices and workspaces around the world, but also in the permanent collections of museums and galleries. Innovative business practices and a commitment to social responsibility have also helped establish Herman Miller as a recognised global leader. Herman Miller is included in the Dow Jones Sustainability World Index and trades on the NASDAQ Global Select Market under the symbol MLHR.
PortalMill, along with the International Headquarters in Chippenham, is part of Herman Miller's global network. In addition to spaces in North America, there are also showrooms in London, Dubai, Milan, Hong Kong, Tokyo, Sydney, Mexico City and São Paolo. Coupled with these spaces are manufacturing and assembly facilities in the USA, India, China, Brazil and Mexico, and of course, here at PortalMill in Melksham.
About Grimshaw Architects
Grimshaw was founded by Sir Nicholas Grimshaw in 1980. The practice became a Limited Liability Partnership in 2007 and operates worldwide with offices in New York, London, Melbourne, Sydney and Doha employing over 400 staff. Grimshaw's international portfolio covers all major sectors, and has been honoured with over 170 international design awards including the prestigious Lubetkin Prize.
The practice is dedicated to the deepest level of involvement in the design of their buildings in order to deliver projects which meet the highest possible standards of excellence. The company's work is characterised by strong conceptual legibility, innovation and a rigorous approach to detailing, all underpinned by the principles of humane, enduring and sustainable design.
About PortalMill
Design and construction
Sir Nicholas Grimshaw and his team at Grimshaw architects produced the concept design for PortalMill. First Industrial were appointed as the development partners and Winvic undertook the construction with Stephen George and Partners as the delivery architect.
Building facts
The building footprint is an L-shape for the manufacturing floor with a social/office space tucked into the corner of the L. This layout (in contrast to a traditional rectangular shape) enabled the volume of space to be maintained but the distance and travel time from one side of the building to another was greatly reduced.
In addition, a key feature of this building was the opportunity to house the operations, research and development, options and supply chain teams together in one space. The building was designed to provide an open and flexible space allowing for greater collaboration between teams, whilst having a variety of work spaces to accommodate the different needs of each team.
The building is 170,000 square feet and houses 200 highly skilled employees, using state of the art equipment and lean manufacturing process, including Herman Miller's proprietary Performance System and ISO 9000 accredited operations Products produced here are shipped to customers in over 8000 cities worldwide, from FTSE100 blue-chip companies to smaller start-ups.
Site history
The location of PortalMill was formerly RAF Melksham, a training base which at its peak housed around 10,000 personnel. The RAF station opened in 1940 and over the following 25 years recruits undertook basic training and courses, in particular for the Instrument and Electrical trade schools.
Following the closure of the base in 1965, some of the accommodation was refurbished to become local authority housing, with many of the larger buildings taken over by local businesses, which gradually became the industrial estate as we know it today.
The specific site of PortalMill was home to one of the first all-weather running tracks, which was laid in 1983 by Avon Rubber Company. Used as test track, it gradually fell into disrepair until the site came up for development.