Designed by Sam Hecht and Kim Colin
OE1 Mobile Easel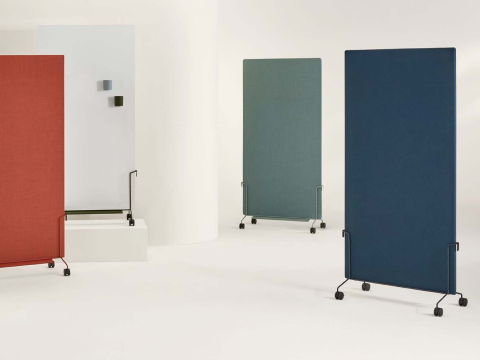 A light and movable collaboration board for agile teams
The OE1 Mobile Easel enables agile collaboration wherever teams want to work. Its whiteboards and tackable surfaces double as movable wall boundaries and work in tandem with the OE1 Wall Rail and Board. Part of the OE1 Workspace Collection.
Share Ideas and Define Spaces
The OE1 Mobile Easel helps individuals and teams collaborate quickly—wherever they may be. Its casters let people roll them easily and lock them in place, creating impromptu project walls as well as makeshift boundaries.
Take Your Work with You
Project boards travel seamlessly between the OE1 Mobile Easel, the OE1 Agile Wall, and the OE1 Wall Rail and Board. So teams can collaborate here, there, and everywhere in between.
Specs
View the dimensions, materials, features, and available options for OE1 Mobile Easel.
While designing OE1, Sam Hecht and Kim Colin deconstructed the traditional systems approach to office furniture. In the process, they created an agile collection that's ready for action in a changing world of work.