Designed by Observatory
Airia Desk and Media Cabinet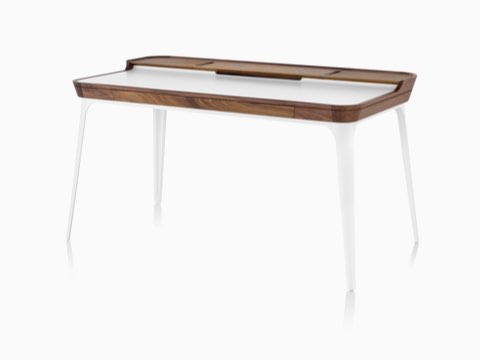 Airia Desk and Media Cabinet
From its elegant combination of wood and aluminum, to its thoughtfully crafted details such as cork-lined drawers, Airia combines beauty and functionality. Designers Ayako Takase and Cutter Hutton were motivated to design an "intelligent desk that acknowledged technology and the stuff that we accumulate when working, but do it in a subtle, integrated, and intuitive manner."
Creating connection
Takase and Hutton, of industrial design firm Observatory, believe that good design can create an emotional connection between object and individual, a philosophy that inspired the making of Airia. "We wanted Airia to be alluring to the eye and satisfying to the hand, to spark an emotional response from first sight, but also after years of use in the home," says Hutton.
Material beauty meets functionality
The warmth of a walnut wood frame contrasts against the white aluminum desk surface and tapered legs. A slightly elevated secondary surface provides a place to keep books, objects, or refreshments. Cutouts for cords and cables free the surface of clutter from your charging devices, and slender drawers help to organize papers. The accompanying Airia Media Cabinet provides additional storage and display capability. Such features make Airia a timeless piece that supports contemporary needs. "We intend it to be a desk you'll keep for the rest of your life—and give to your kids," Hutton says.
"We both still have unique design voices, so there are times we have to work to convince each other of something, but the end result is a more interesting harmony. The outcome is a stronger design."