Transforming the Hospital Experience
How transformative, patient-centered care can create better outcomes.
Dubai, United Arab Emirates
Case Studies
Case Study: Fakeeh University Hospital
How Fakeeh University Hospital delivered transformative, patient-centered care to create better outcomes.
When leading healthcare institute Dr. Soliman Fakeeh Hospital Company decided to open a new world-class hospital and a working university in Dubai, they faced all the challenges that come with rapidly changing medical technologies. How can hospitals keep pace? And how do you design in a way that caters to that level of constant change?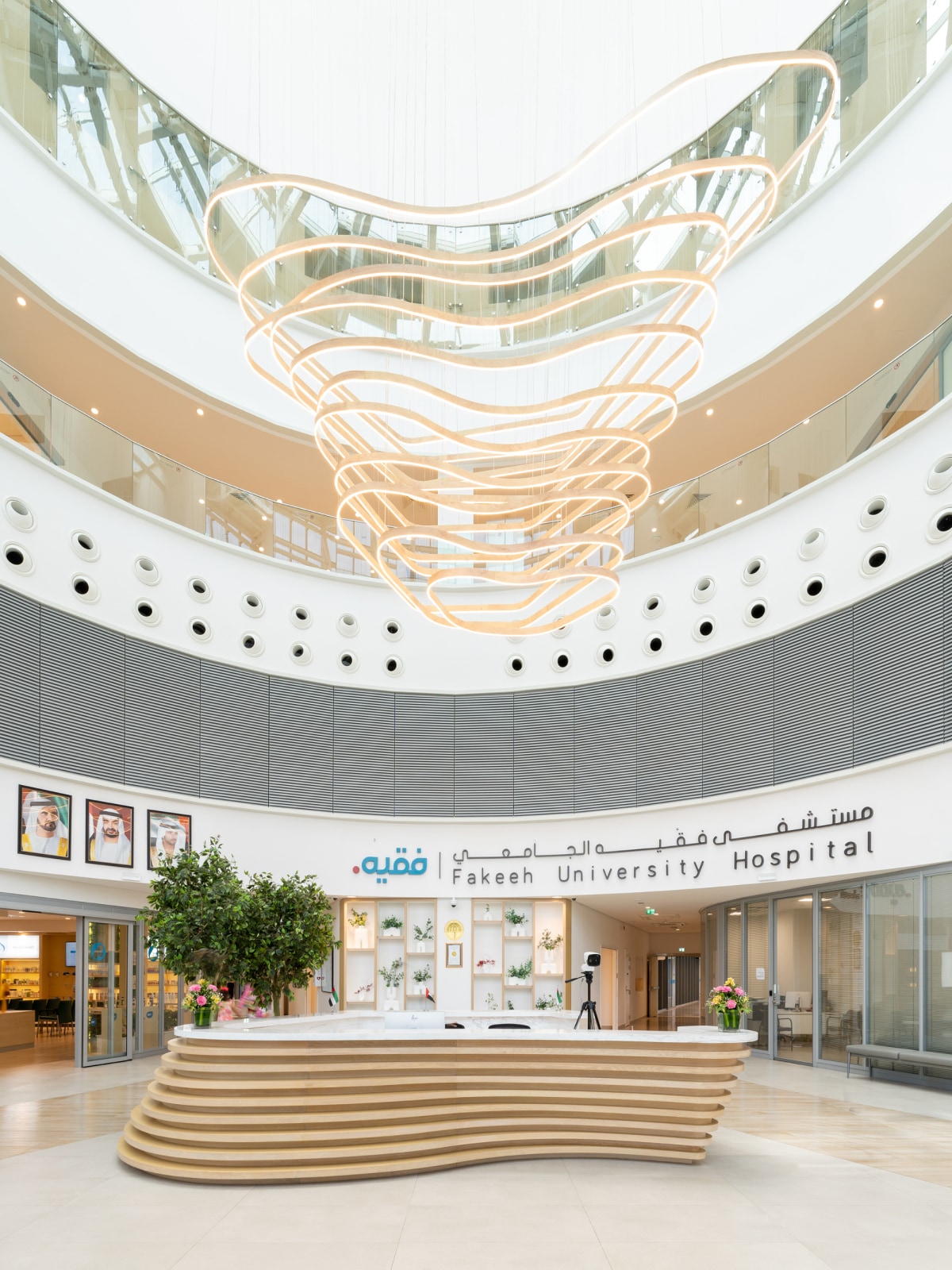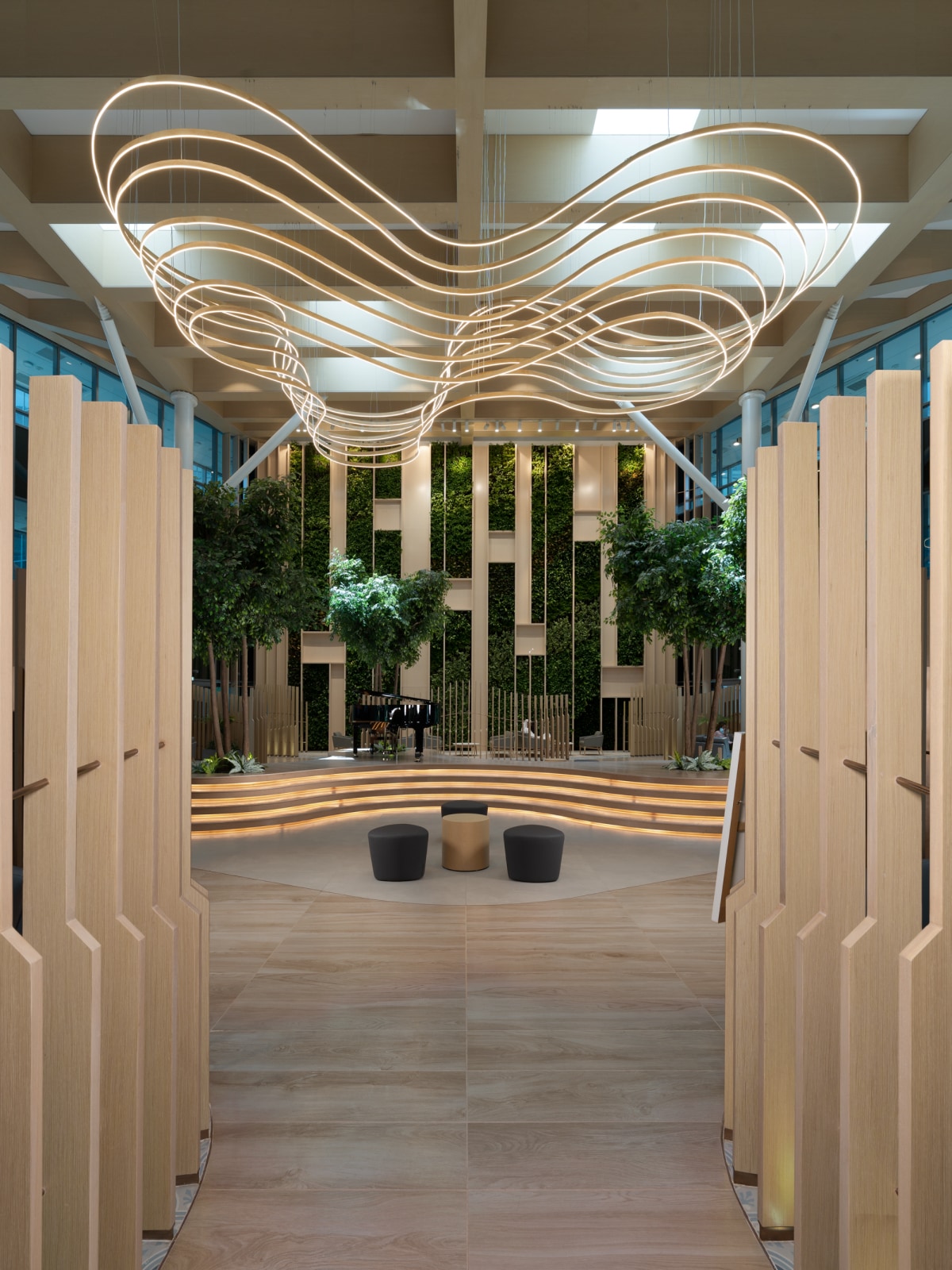 The company also saw an opportunity to tackle a global problem: the patient experience. No matter where you are in the world, a hospital visit can be cold, impersonal and lonely. As research starts to show the benefits a welcoming environment can have on the patient healing process, healthcare organizations are realizing they need to change their approach.
Through their new hospital in Dubai, the Saudi Arabia-based healthcare group saw a chance to address some of these issues, and to deliver something unique. With Fakeeh University Hospital (FUH), they envisaged personalized, bespoke caregiving and a holistic, 360-degree approaches to patient health. They also wanted to raise the bar design-wise, creating a luxurious space patients would feel at home in – more like a five-star hotel than a medical facility.
Finding the right partners

It's one thing to deliver a luxury hospitality experience, but how do you deliver that experience across 1 million square feet? Designing and building such a huge facility, and a highly digitalized one at that, required partners who could deliver at this scale.
"We needed up-to-date, reliable, adaptable and long-lasting products that would live up to our promise of the best caregiving standards. We also needed partners who could be in consistent exchange with us in the early stages of the construction process, feeding back on spatial dynamics and products that would be suitable and relevant," says Dr. Varun Katyal, Director of Operations at FUH.
With its ability to create comprehensive healthcare furniture solutions at scale for everything from clinics to the laboratory and pharmacy, and from in-patient rooms and waiting areas to administration zones, Herman Miller was the natural choice. Through Advanced Business Concept (ABC) – a certified Herman Miller dealer that specializes in interior furniture solutions – they came on board early in the design process.

"Change is imminent inside any healthcare facility. So having furniture that adapts to change was key, and that's something we knew Herman Miller and ABC could provide," says Dr. Katyal. "We also chose to partner with Herman Miller and ABC because of their ability to deliver a full healthcare furniture solution from one source" – something that's vital for a healthcare facility of this size.
Building in change

A key part of the FUH vision revolves around creating a highly digitalized hospital that keeps pace with cutting-edge medical technology. That's why they chose to integrate cutting-edge, smart technology from day one. For Herman Miller, this meant incorporating not only current technology, but also catering to future digitization within its furniture solutions.
"Part of the challenge was accommodating the machines and blending a full modular system to support this," says Ayman Najim, COO of ABC. "That system has to be able to change and adapt. Let's look at the pharmacy, for instance. They wanted to have a fully automated pharmacy dispensing system, so we had to incorporate this into the furniture."

Herman Miller integrated healthcare systems such as Co/Struc into the design for the pharmacy and the clinical lab early on. Modular and made up of readily interchangeable components, Co/Struc can adapt to technological changes, and it can easily be reconfigured if systems and processes shift.
"We've already seen the benefits of this in both the pharmacy and the clinical lab. The clinical lab has also been automated since the initial design, and that meant we had to reconfigure the layout," says Dr. Katyal. "Having a system that's based on components that can easily be moved around and replaced in another function or service made a huge difference. We had to reshuffle all the components to adapt to the lab equipment."
Five-star experience

There is a growing trend among private hospitals in the Middle East of creating a luxury hotel experience. FUH wanted to create this for patients – however it was their intention to take that experience to a whole new level in terms of both design and detail.
Right from the get-go, visitors get the sense of being in a luxury hospitality environment as they enter the FUH lobby, a glass atrium several storeys high. "If there weren't doctors and nurses walking around here, you wouldn't know it was a hospital," says Najim.

This airy, light-filled space has been decked out in the Nemschoff Palisade collection, a seating collection that sets a stylish scene with its mid-century modern aesthetic. It's also comfortable, durable, and antimicrobial – perfect for healthcare environments.
Balancing health and safety with design

"A major consideration was how you balance aesthetics with functionality in healthcare on a longer-term basis – especially when your client wants something very beautiful, something that creates a warm and inviting environment, instead of the cold, clinical healthcare spaces of the past. At the same time, there are certain requirements you need to stick to when it comes to healthcare functionality," says Ahmed Yosri, Dealer Market Manager for Herman Miller, MEA.
Not only does every fabric need to be easy to clean, it also has to withstand the wear and tear of people traffic. "This is part of the overarching guidelines of infection control no hospital can live without," says Yosri.

Luckily Herman Miller and ABC were able to deliver a high-end look and feel, while incorporating materials that meet infection control practices. "This elevated the guest experience, and the staff and patient experience, too," says Yosri.
Herman Miller and ABC also coordinated with the interior designers to apply different designs, colors and finishes in different wards, across the VIP suites, and from room to room, so that patients get a different experience if they have to visit the hospital again. In one room, for example, there's a calming blue theme, while another is decorated in greens for a natural feel. Still another features oranges to bring cheery warmth to the space.
Workflow and the staff experience

From the start, FUH understood the importance of creating a good experience for those who work there.
"We looked at staff work practices and tasks from the very beginning. We looked at how the staff are behaving, and what are the tasks they'll be doing in each space. Equipment placement was really important here. If we position a machine like so, how is that going to affect workflow? Is it going to create congestion or interrupt their flow?" says Yosri.

"In understanding this, we can deploy our furniture solutions in the most effective way possible," he continues. "This helps them do their job better, which is then reflected in patient satisfaction levels and the quality of healthcare FUH offers.
We also took into consideration the fact that work practices change as technology and care models evolve. Our solutions are designed with this in mind: they're built to support ongoing change."
Along with giving staff the tools and the layouts they need to support them in doing their best work, Herman Miller and ABC made sure the furniture and materials created a comfortable and appealing environment for staff. This goes for everything from the workstations and meeting rooms right through to the administration areas.
Given the level of care given to creating a supportive environment for staff – not to mention the state-of-the-art technology – it's no surprise to hear Dr. Fatih, Vice President – UAE & Group Growth Office, say that "the hospital is a magnet for first-class medical professionals from a range of specialties."
Alongside medical experts, Dr. Fatih says the hospital is "also attracting patients; not only local residents, but also international ones."
With FUH, Dr. Soliman Fakeeh Hospital Company hoped to transform the patient and staff experience. If the hospital's popularity is anything to go by, the healthcare group has not only achieved its aim, but they have also set a new benchmark for healthcare services – both regionally and globally.
Want to Learn More?
To find out how Herman Miller can transform your healthcare spaces, or to answer any questions you might have, connect with our specialists.
* Please fill in the required fields:
Please fill in the required fields:
Thank You!
We've successfully received your information. You should hear from us soon.

Something went wrong.
Please refresh the page and resubmit your information.