Color Commentary
Aleishall Girard Maxon and Kori Girard—grandchildren of Alexander Girard—discuss their family's creative legacy.

Written by: Sam Grawe
Artwork by: Daici Ano
During 2015's Tokyo Design Week a series of concurrent exhibitions brought the legacy of designer Alexander Girard to life—through his work and spirit. At Herman Miller's Tokyo store, archival artifacts were exhibited alongside contemporary furnishings, textiles, and products as a part of "Alexander Girard: An Uncommon Vision." Meanwhile, at the Curator's Cube gallery, the exhibition "Girard Continued" featured contemporary works by Marshall Girard, Alexander's son, and his children, Aleishall and Kori. Given the occasion, we sat down with Aleishall and Kori to discuss their grandfather's enduring popularity, the ins and outs of working closely with that legacy as Girard Studio, and their own creative endeavors.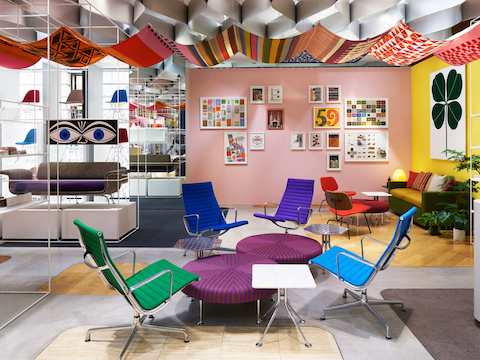 Welcome to Tokyo. Why do you think your grandfather's work has enjoyed such a great deal of popularity here in recent years?
Aleishall Girard Maxon: As far as I've known, Japan has always been really receptive to the work of our grandfather. My speculation is that there's a familiarity with pattern, and an appreciation for pattern and color in everyday life. Whether it's from a rich history of folk art and textiles, it seems like the Japanese are unafraid of color and pattern. I also think his work appeals to people who can appreciate simplicity and universality.
Kori Girard: I think the Japanese are hugely interested in other cultures—there's a high level of connoisseurship generally. I think that that mirrors pretty much the connoisseurship that our grandfather had for the world and his appreciation for the thoroughness with which different cultures express themselves.
More than anywhere else in the world I've been, Japan has a deep regard for graphics—graphics that are both sophisticated and whimsical at the same time. I think some people have trouble riding that fine line—but it's really what our grandfather was best at.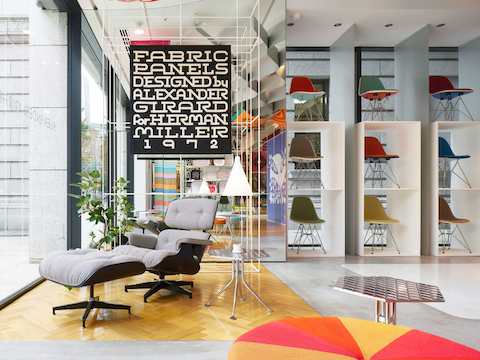 You grew up surrounded by many of the items that are on display here in our exhibition—or have been exposed to them over the years—but what's it like for you to experience it all together in an environment like this?
AGM: In our homes, and in our parents' and grandparents' homes, there has always been a combination of our grandfather's work with the work of many other people—from craftsmen to contemporary designers—and in here, in this total kind of immersion, it's amazing for me to see how it all works together. It becomes clear to me that there's a thread that runs through all of it, and you can really see how one thing informs another. It's also gratifying to see the new pieces, and I love the idea that someone can incorporate it into their life.
If you step back, what do you admire most in your grandfather's work?
KG: For me one of the most impressive things is just the honesty and the confidence in the work. I also think that our grandfather's work is extremely dynamic with very little ego attached to it—and that's difficult to achieve. It seems obvious when you look at his work that he loved making it—and what better message could you have than someone being inspired fully by what they do?
In your official capacity as Girard Studio, you're responsible for overseeing and protecting your grandfather's legacy. Another way to look at this could be that you're exploring and defining the contemporary relevancy of his work and his point of view on design. How do you see your role?
KG: I think the best words are probably just preservers, protectors, and stewards. The work really speaks for itself and we don't have to try very hard to find the relevance. He designed with such range—from the most subtle neutrals to the boldest bright colors, or from soft to aggressive textures—that there's always something there to work with. For us, it's more about finding the right partners who are interested in the conceptual educational aspects of the work, and not just creating meaningless stuff. I think we just listen to the work and try to ask ourselves, "What would he have done?" Or, "If he was living today, would he have been interested in this?" That's our barometer.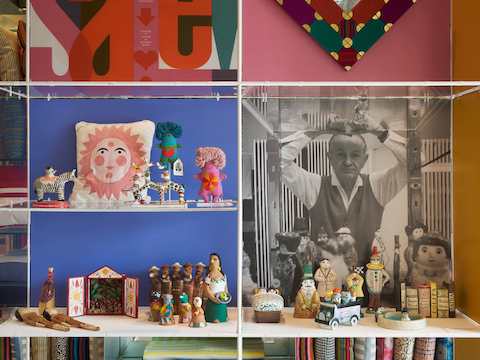 Can you tell us a little about the working process?
AGM: One of our considerations is always understanding the process of the people we may be working with—to better understand the environmental impact and the potential to create something durable and lasting, because he certainly shared the same concerns. In the process, we also consult with our father and our mother to consider the original context the work was made in, and whether or not it makes sense to re-introduce it in an archival way or in some cases where it makes sense, switching to a slightly more contemporary application of the work. As Kori said, we have zero interest in just plastering graphics or patterns onto anything that we can find and selling hundreds of "themed" items.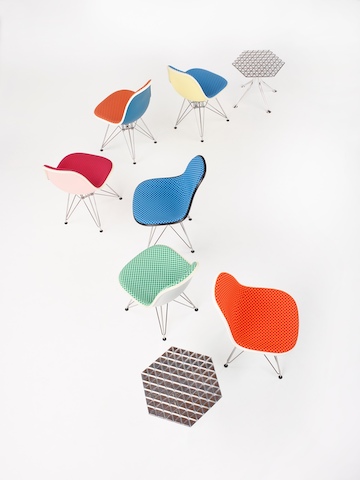 "A big part of authenticity is partnering with people and companies that really care about what they do, and will tell the story in the correct way."
-Kori Girard
What does authenticity mean to you?
KG: A big part of authenticity is partnering with people and companies that really care about what they do, and will tell the story in the correct way. And for us, that means certainly working with Herman Miller. Herman Miller provided our grandfather with so many opportunities and so much leverage to be able to realize the collective body of work you see here. So for me, authenticity has a lot to do with valuing and respecting legacy.
AGM: I agree with that, but I would go on to say that we think of authenticity in two parts. One part of it is technical: to ensure that the product follows exactly what was originally produced, unless there are improvements that can be made with modern processes and materials that don't alter or compromise the integrity of the design. The second part is spirit, and respecting the spirit in which the work was originally created. Of course we can't speak for our grandfather on every single idea that comes along—whether he would or wouldn't have done something—but I think we are pretty familiar with the way he lived his life and thought about these things.
Following that, can you identify traits in his spirit that you think were passed on to your father and then on to you?
AGM: One of the main things is a kind of freedom to explore an idea—and I love that. Nothing ever stopped our grandfather when he had a creative spark—he would go down a rabbit hole trying to figure out the solution, which tool would work best, what he needed to assemble, who could help with the craft of the work, and so forth. Our father is also very much like that. Growing up it was pretty incredible if you had a school project or an idea for a Halloween costume or something like that, because no matter whether he had any idea of how to do it, the wheels would start turning, we'd go into the workshop, and we'd figure it out and make something happen. I think that's a really unique and cool thing, because it expands the limits of what you feel comfortable trying without judgment of failure in accomplishment—it's more about the process itself.
KG: I would agree. I think the spirit of endless curiosity and endless experimentation, and reminding oneself that it's not about a singular piece or a singular idea that exists in a vacuum, but more about a lifestyle, or a way of interacting with your surroundings that creates a life's work.
For me it also always goes back to drawing. Going back to when we were little, we were always encouraged to draw at every moment we had free. When you look at drawing as an activity it's really just a way of extracting ideas, and conceptualizing what's in your head.
It's unfair to ask that question without also asking what you think you inherited from your grandmother and your mother.
AGM: It's actually interesting because our mother has many similarities to our grandmother, who wasn't her mother, but her mother-in-law. They sort of offer the practical side that's a check-and-balance with the more unbridled creativity—when you're too deep down that rabbit hole there's something there to rein you back in.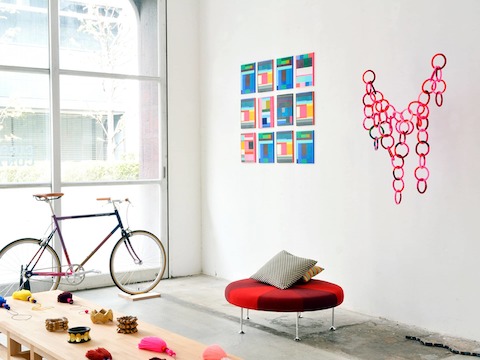 Tell us a little bit about your exhibition at Curator's Cube, "Girard Continued."
AGM: Well, Kori and myself and our father are always creating our own work in different capacities—and it can oftentimes be inspired or influenced by one of the other people's works. There are often conversations about what we're working on or creating or thinking about creating, so it was a really wonderful opportunity to show together here in Japan, and we all created new works specifically for this show.
Speaking personally, I'm trying to take my work to a different level of scale using the same materials that I've been using for quite some time now, while exploring new capacities for those materials.
KG: For me, this has been a momentous thing to be able to work with our father, who has virtually never shown in an art show sort of context. It's a really great privilege and honor to do this type of thing, and the response was just incredibly warm.
"Kori and myself and our father are always creating our own work in different capacities—and it can oftentimes be inspired or influenced by one of the other people's works."
- Aleishall Girard Maxon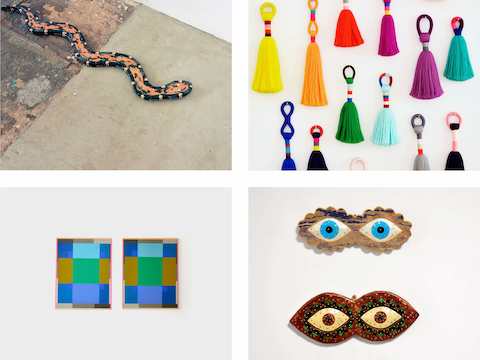 How do you approach the creative process?
KG: I'm continuously working through what that means—my process has been multi-faceted for a long time, creating as much as possible, experimenting with as many mediums as possible, collaborating with other artists to learn and explore. More recently, as Aleishall and I have taken on far greater responsibility for our grandfather's legacy, we've realized that one of the most important parts of that job is to align with the right partners—people who we can trust implicitly. That opens up a kind of freedom for us to turn the focus back to ourselves and our own work, and continue to push forward.
AGM: Just to cap that off, people often ask us about making our own work and working with our grandfather's work, and I think we are both really clear that if he were still around today, he wouldn't want us to compromise our own creative energies and desires to focus solely on the past, and what he did.
That being said, for me personally, it's really inspiring to spend so much time looking at and sorting through our grandfather's body of work. I know that it influences me. I don't directly look at one textile and then go and create a necklace or piece based on that colorway per se, but I know it's a constant source of inspiration.
What do you hope visitors to these exhibitions walk away thinking?
AGM: I hope they feel inspired in their own life—inspired to live with more color and more texture. Whether they see the thread that runs through the work, I'm sure they will be absorbing it on some level.
KG: I think the work promotes curiosity and inquiry—and maybe gets people to become more interested in themselves and what turns them on. What better way to live than to be interested in the things around you?