Designed by George Nelson
Nelson Bubble Lamps
The entire family
An assortment of lights in various spherical silhouettes, the Nelson Bubble Lamps add a touch of softness and luminosity to interiors. Designed by George Nelson in 1952, these elegant fixtures are fashioned from a sturdy, lightweight steel frame yet have a delicate, floating quality, whether in ceiling-hung, floor, table, or wall-mounted variations.
Nelson was inspired by a set of silk-covered Swedish hanging lamps that he wanted to acquire for his office, but he found the price to be prohibitive. An ingenious and resourceful designer, he went on to create the first set of Nelson Bubble Lamps using a translucent white plastic spray, a technique developed by the U.S. military at the time. Nelson drew from elemental, organic shapes in making variations like the Apple Bubble Pendant, the Pear Wall Sconce, the Lotus Table Lamp, and the Saucer Pendant Lamp, among others.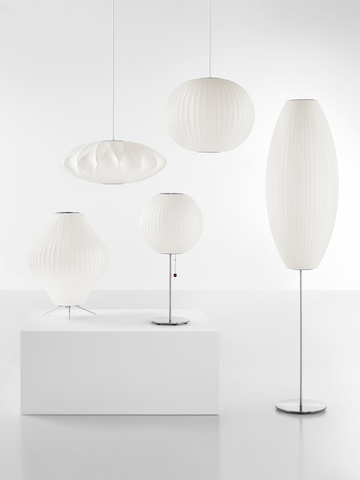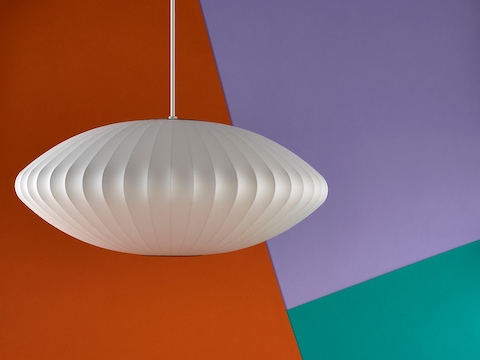 A tale of ingenuity

An influential designer of mid-century modernism in America, George Nelson came across a set of hanging lamps from Sweden and loved everything about their modern aesthetic, except for their extravagant cost. "The Swedish design was done in a silk covering that was very difficult to make; they had to cut gores and sew them onto a wire frame. But I wanted one badly," Nelson wrote in his book, On Design, published in 1979.

Resin resonates

A seemingly unrelated reference soon led to an intuitive idea. He recalled, "It was a picture in the New York Times some weeks before which showed Liberty ships being mothballed by having the decks covered with netting and then being sprayed with a self webbing plastic." Nelson located the manufacturer of this resinous plastic and used it in the making of the bubble lamps.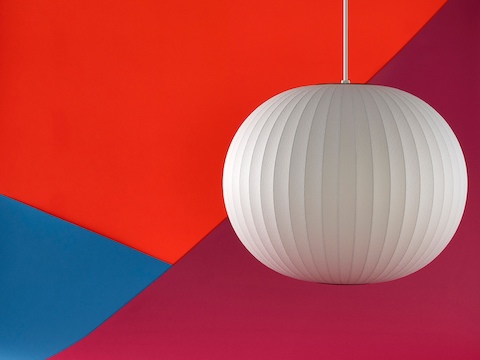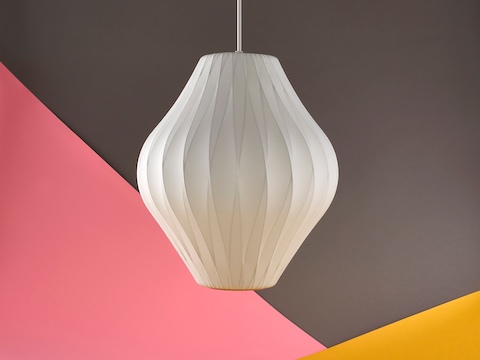 A luminous skin

The first prototype of the lamp was designed in a matter of two days. Nelson created the spherical frame with perforated rings that were inserted with steel wires, a construction that retained its shape under tension, required minimum tools, and no welding costs. It was then sprayed with the resinous lacquer to form a fibrous web, and a final coat of plastic was applied, creating a smooth, translucent skin. And hence Nelson had added lighting installations to his expanding portfolio of work and introduced a beautiful, timeless lighting fixture to consumers at modest prices.