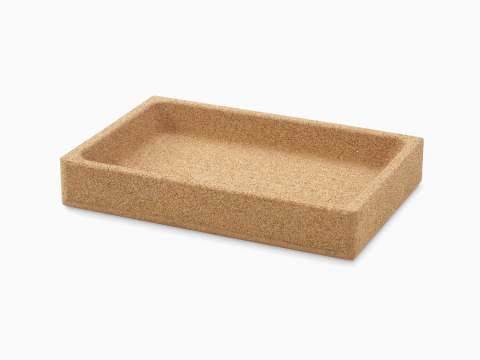 The Ambit Cork Tray brings order to your desk by organising essential items and other odds and ends. Add on to one of our sit-to-stand desk solutions, like Ratio, and save valuable desktop space to help keep you productive. Part of Ambit Workspace Solutions.
A place to call home
The Ambit Cork Tray is a small item organiser that provides a home for pens, paper clips, earbuds and more while keeping them at the ready.
Soft yet durable
This office desk organiser provides a soft, protective surface to lay your essential items.
Designed to work with storage
When added to Ambit suspended or pedestal storage drawers, this cork tray adds another level of organisation specially made for smaller items.
Specs
View the dimensions, materials, features and available options for the Ambit Cork Tray.
Ambit Workspace Solutions
A comprehensive portfolio of components and accessories that enrich the existing sit-to-stand table product lines and elevates the user experience.