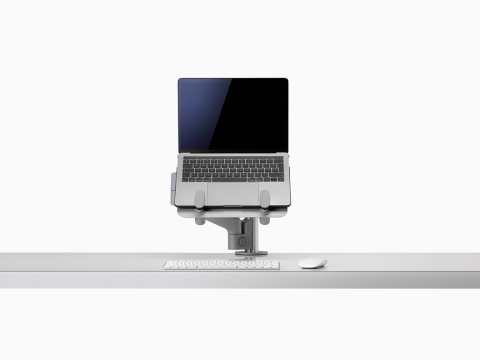 Positions your laptop to work harder for you
Create a healthy and comfortable work experience and free up more desktop space for your work with the Lima Laptop Mount and monitor arm (sold separately). The mount easily attaches to the arm, so you can position your laptop off the work surface and at eye level.
Goes Easy on Your Body
By allowing you to control the laptop's height and position, the laptop mount and monitor arm combo improves posture and reduces strain on your eyes, neck and back. And when comfort improves, efficiency and productivity can too – especially when you're using an external keyboard and mouse.
Helps You Work Effectively
The Lima Laptop Mount and monitor arm help your laptop work harder for you. Together, they allow you to choose the optimal height, distance and angle of your laptop, making it a more effective work tool. This makes the duo a smart choice for remote or hybrid workers.
Accommodates Your Set-Up
The versatile Lima Laptop Mount works as part of a single or dual-screen set-up when paired with a Lima Monitor Arm, and it supports any laptop up to six pounds. The mount's durability is backed by a 12-year warranty, and its parts are recyclable.