Designers
Ayse Birsel and Bibi Seck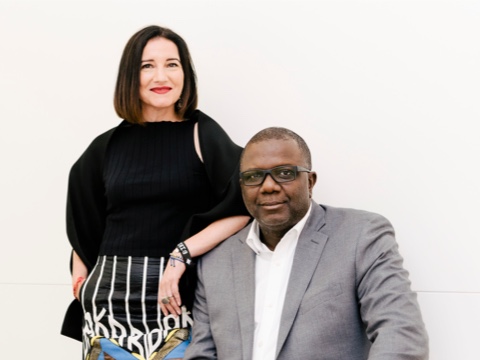 Products by Ayse Birsel and Bibi Seck
When Ayse Birsel was asked to design a concept car interior for French automobile manufacturer Renault in 2002, she requested that the company set her up with a mentor. They sent her Bibi Seck and said, "You're going to love him." To Seck of Birsel, of course, they said, "You're going to love her."
"We did as we were told," Birsel says. "We met, we started working together, we fell in love." Seck moved from Paris to New York City, where the two became partners "in life and in work." Together they formed their design and innovation studio, Birsel + Seck, swiftly developed a robust client roster, and had their "best product"—their kids.

The Birsel + Seck resume boasts the likes of Amazon, GE, Herman Miller, Staples, and Toyota, and includes social design work to bring the economic value of design to Senegal and other parts of Africa. Despite the diversity of their portfolio, Birsel points out that, "The end user is always at the center of our thinking." The pair uses their proprietary creative process, Deconstruction:Reconstruction, or DE:RE, to co-design with their clients to "break preconceptions, shift the point of view, and solve to create new value within existing constraints."
As partners, the New York-based duo typically collaborate on the ideation phase with the more logical Birsel tethering the dream-prone Seck, who teases that he will "make a flying chair if left alone." That said, while Birsel takes a stronger hand in conceptual development, she says, "Bibi has a true expertise in how things are made and will see designs through to engineering, development, and production." Such was the case on their latest project for Herman Miller, Overlay, a system of freestanding, movable walls designed to transform the open office.
That project was inspired by a string of dichotomies—messy and clean, alone yet together, simple but flexible—fitting, as resolving dichotomies shapes the duo's point of view, both in design and life. Seck's Senegalese background and Birsel's Turkish upbringing make them feel like both insiders and outsiders whose design DNA is defined by finding the sweet spot in between. It's also made them a perfect fit for Herman Miller. "Herman Miller's use of external design studios leads to different cultures and perspectives coming together, which really goes hand-in-hand with our experience," Birsel says.