Headway
Designed to take on tech.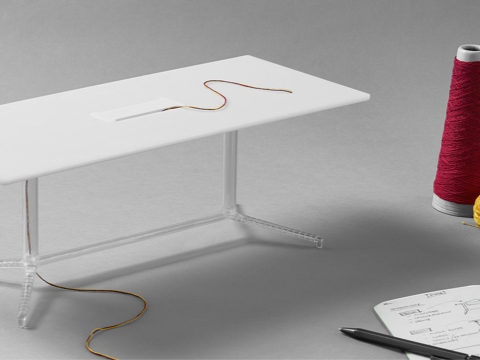 Most conference tables either have the right look or the right technology. But rarely both. We set out to change that. Headway's beautiful, purposeful design plays host to all the tech you want.
Designed for you. And for someone you've never met.
We spent months interviewing people who use conference tables to get Headway's design just right. We soon realized that a very important person often gets overlooked: the person who fits the table with technology. So we used human-centered design research methods to study the different ways IT teams get tech into tables.
Early cable management prototypes were developed from our observations of IT teams at work.

Customizable Tech Cut-Outs
No more nips or tucks.
We discovered that people are often forced to improvise rough cuts and saw extra holes into table surfaces and legs to make room for technology. This permanently damages the table, scarring its looks and altering its function. We obsessed over how to design a conference table that could accommodate tech while maintaining a pristine, seamless aesthetic.
We sketched and prototyped concepts in search of a solution that would work with a wide range of tech made by different manufacturers.

Removable Tech Mounting Panels
Just plug and play.
To ensure a seamless look, we designed Headway around the technology it hosts. Just plug your tech in, no last-minute on-site modifications necessary.
Components attach to perforated, removable tech mounting panels that are designed to make integration easy.

Spacious Tech Cabinet Legs
Load it up.
Headway is designed to fit the tech you need now—plus the tech you'll want in the future. Its sleek yet spacious cabinet legs offer room to grow as tech evolves and your needs change.
We explored prototypes for a tech cabinet leg that would let tech teams add a wide range of components.

Wraparound Tech Camouflaging
Headway stays seamless.
Put in all the tech you want. Headway's design will keep things under wraps. Its wide, hollow legs and spanners accommodate all the cables needed to power a conference room and keep them hidden from view.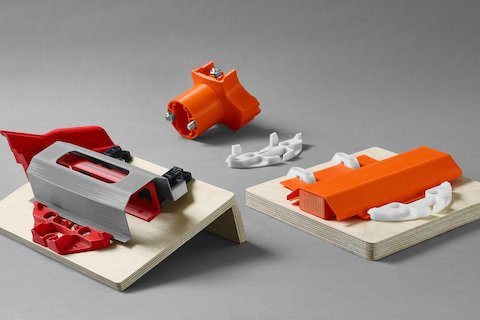 Prototypes for tech curtains and "hammocks" that camouflage technology under Headway's work surface.