Meet the shifting demands of work
The genius of Ethospace lies in the combination of its sturdy steel frame and interchangeable tiles. Dozens of tile options let you define—and redefine—how your workplace looks and performs, while steel frames provide ample capacity for power and data and support hanging storage and work surfaces. Updated and expanded regularly since it was first introduced, Ethospace gives organizations the flexibility and durability to meet the shifting demands of work.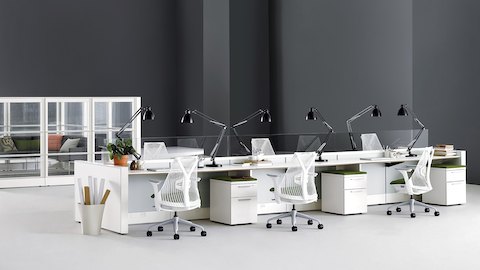 Durable
Ethospace becomes a better value with each passing year. Its structure—a sturdy steel frame with interchangeable tiles—outlasts trends, and the interchangeable tiles ensure the look and utility of your office remains current.
Available in nearly 30 styles, these tiles attach to the frames and can be removed in seconds without tools. Whether you need to reconfigure a space to change the ratio of collaborative to individual space or you need to refresh the aesthetics, you never have to start all over.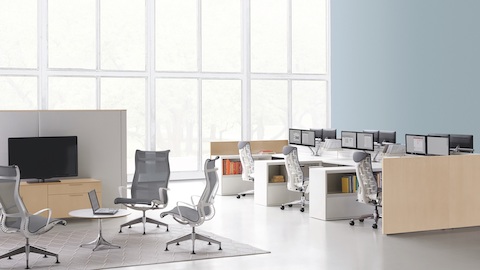 Tailored for technology
Ethospace brings power and data to the tools you use to do your work. Wires and cables sit in the space between the frames and tiles, so installation takes three easy steps: Set up the frames, lay in the cables, and put on the tiles. To access wires and cables later, simply remove the tiles.
Even resizing a work area is easy. Remove a frame, move and reconnect the remaining frames, snap in power and data, and put the tiles back on—all without disturbing your power or data network.
Flexible
With 90-, 120-, and 135-degree planning options, Ethospace is extremely versatile. It can be used alone or in combination with other solutions to create diverse landscapes of varied settings.
Workspaces, benching, collaborative spaces, private spaces, and meeting areas—Ethospace supports them all with beauty and style, creating a workplace that reflects your organization's unique character and supports the unique activities of your people.