The Coronavirus Crisis

How We're Helping Around the World
For more than 100 years, Herman Miller has used the power of design to serve humankind. During this unprecedented global crisis, we're using creativity, collaboration, and hard work to help stop the spread of the coronavirus—and keep our communities healthy.
Here's the latest, most important information about our efforts and our company.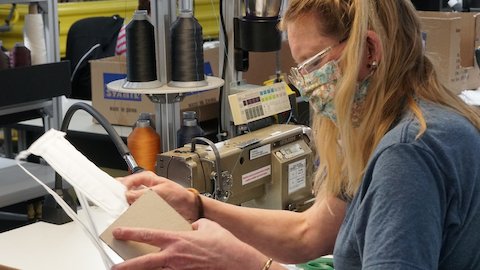 Protecting Our People
To support essential industries, we've welcomed back parts of our workforce around the globe. We're taking every precaution to ensure the safety of our team members who continue to come to work by providing PPE (personal protective equipment), ensuring social distancing, and sanitizing our facilities. We're incredibly grateful for our #HMHeroes.
Supporting Frontline Workers
We're using our manufacturing capabilities to provide frontline healthcare workers with immediately needed PPE (personal protective equipment), including face masks and face shields. We're also making PPE for our own employees to use so we don't take away from the global supply.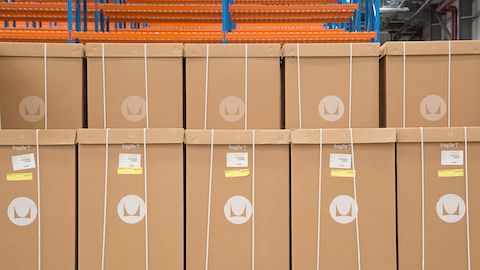 Supplying Essential Industries
Our manufacturing teams have prioritised existing orders for essential industry clients, and we're servicing the hardest-hit customers and geographic areas first. As hospitals and healthcare facilities face a surge of patients, it's critical they have the equipment they need for their spaces to be fully functional.
Giving Aid in Our Communities
As a global company, we strive to think globally and act locally, especially when we're needed most. Herman Miller Cares, our private foundation and global giving program, is focusing its support on essential COVID-19 efforts around the globe, as recommended by our local team members.
As a design company, we may not be able to produce and process COVID-19 test kits ourselves, but we're working with one California lab to fast-track a 10,000-square foot expansion to keep up with increased testing.

In recognition of World Health Day and to celebrate frontline healthcare workers around the globe, we hosted an opportunity for people to nominate and recognise a healthcare hero in their life. We were humbled to hear about so many—and honoured to gift one with an Eames Lounge Chair.

Photos courtesy of @tsisneros12, @tavialawrence, @ronbautistanj, @gentlemandilettante, @meeekogram, and @chewzeka

Using our design, development, and lean manufacturing approach, we're producing face masks at select manufacturing facilities to fulfill demand at local hospitals—and for our own employees on the manufacturing floor.

Many of our global manufacturing teams are creating face shields using our manufacturing capabilities, like 3D printing and fabric laser-cutting machines. These shields will go to local hospitals in need.


One of our engineers has designed a 3D-printed fixture that optimizes the pleat-folding in face masks to increase their accuracy. The 3D-printed pieces offer a standardized approach that ensures quality, makes it easier for the operator; and ultimately improves the work. The fixture design is open source and is helping other mask-sewers around the globe be more efficient.


The Haiti Foundation Against Poverty's Gift of Hope Program is using some of our excess fabric pieces to produce cloth face masks for their local community.

Valuable Insights for a Changing World
We're providing research and knowledge to help people now—and sharing thoughtful perspectives on an uncertain future.
How Herman Miller Is Helping People During the Coronavirus Crisis
From manufacturing PPE to funding charities worldwide, we're committed to serving our communities during the global pandemic.
Helping You and Your Employees Work from Home
Visit the Herman Miller store for chairs, desks, monitor arms, and other items to ease your transition into a #WFH life.
If you're a Herman Miller contract customer whose employees are working from home, please contact your Herman Miller salesperson to see how we can help.
Check out our WFH page—it's full of ideas, insights, and advice on working from home, successfully managing remote teams, and more.
China
The Herman Miller Cares Asia-Pacific team is supporting Chuang Yi, an international charity that serves vulnerable people and people with disabilities. Support will allow our employees to distribute 10,000 vital face masks to at-risk individuals in their communities.

Georgia
The Herman Miller Cares East Area team is supporting the United Way of Greater Atlanta's COVID-19 Response and Recovery Fund to help families facing economic hardship and to stock food banks. Funds are also supporting the Atlanta Survival Program and Open Hand Atlanta to deliver meals and groceries to elderly and low-income individuals.

India
The Herman Miller Cares Asia-Pacific team is supporting the White Swan Foundation for Mental Health, an international charity focused on emotional well-being education and reducing the stigma towards mental illness. In response to COVID-19, they are offering mental health and wellbeing support to people isolated at home who may be facing loneliness.

Mexico
The Herman Miller Cares Latin America and Caribbean team is supporting Sociedad Mexicana, an international charity providing continual medical education for respiratory healthcare workers. Our support will help provide diagnostic tests, laboratory equipment, and supplies for COVID-19 tests, and PPE for healthcare workers.

Michigan
Herman Miller Cares is supporting Community Action House, a nonprofit organisation that provides food, clothing, shelter, and skill-building opportunities. During the coronavirus crisis, the organisation has adjusted their food pantry hours and is providing week-long meal kits for families facing food insecurity. In addition, team members in our manufacturing facilities are volunteering to manufacture PPE for our employees and local healthcare heroes.

New York
The Herman Miller Cares New York team is supporting the Hetrick-Martin Institute, an LGBTQ+-focused organisation that seeks to foster healthy development for all youth. With our support, the institute will begin passing out Visa gift cards to those facing food insecurity in Manhattan and New Jersey.

North Carolina
The Herman Miller Cares East Area team is supporting the Burke County United Way in its COVID-19 relief efforts. Our Geiger team members are also working to produce PPE for our regional employees and local hospitals.

United Kingdom
With the support of Herman Miller Cares and in partnership with the University of Bath, our Europe team is using its manufacturing capabilities at our Portal Mill facility to produce face visors that will be donated locally to Royal United Hospital. The team is also supporting small businesses in the local community.

Wisconsin
Our team members at Nemschoff have been working to fulfill critical healthcare orders for our customers and have focused efforts on making PPE for local hospitals in need. Nemschoff has also donated surplus safety glasses to a local retirement home.

How We're Protecting Our Teams
Keeping Our Facilities Safe
To ensure our people's safety, we're following all CDC and WHO recommendations and have increased space on manufacturing lines that continue to run. We're also providing face masks and other PPE as needed in our facilities around the globe. We've restricted travel and have protocols in place for essential visitors.

Working Safely During Coronavirus
The UK government has produced guidance to help ensure workplaces are as safe as possible. Our compliance statement is available here for you to read.

Working from Home
All employees who are able to work from home are doing so until further notice.

Reach Out. We're Here.
Our knowledgeable Herman Miller team members are ready to help you place orders and answer any of your questions.
Home and Small Business Customers
Speak with our Customer Service team Monday-Friday, from 9-5pm GMT on 01225 794000.
Potential Shipping Delays
As we navigate this rapidly changing situation, you may experience delayed delivery times. Thanks in advance for your patience and understanding. Want to know more information on your order? Please call our Customer Care team on 01225 794100. We're standing by.