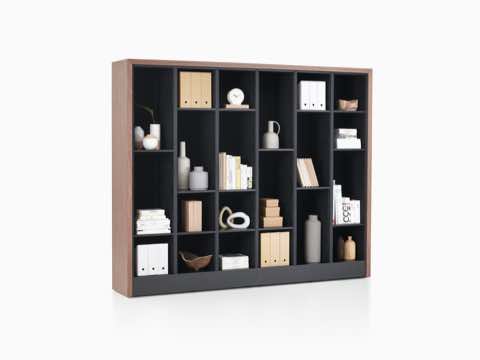 Supporting life's daily transitions
Port is a highly adaptable locker system that can be configured and customized to suit organizational and individual needs. Its unique backer system frees it up to serve as both a space divider and a transit point.
More than Storage
Port offers the flexibility of bespoke carpentry with the efficiency of ready-made lockers. Fit one locker or five within the same column, stack lockers laterally, customize every measurement, or add open shelves. Plus you're free to customize Port using pin-boards, whiteboards and custom colors to create distinctive spaces workers can connect with.
Versatility
And, thanks to a universal body system, it's easy to move between configurations as organizational needs change. This highly adaptable system also comes with a distinctive backer element that transforms Port into an island partition delineating different departments and different activities within the workplace.
Future Ready
Port was built for the future from day one, primed to power up workplace technology as it develops, and readily upgradable from key-based to digital locker. And for today's tech, Port is wired up and kitted out with USB ports to power existing digital devices. There's no need to add or remove components; power management is built into Port's skirting, keeping frames, shelving, and doors free to change whenever they need to.
Specs
View the dimensions, materials, features, and available options for Port Storage System.
As we transition from workplaces populated by fixed workstations towards tech-driven ad hoc environments, the role of storage is evolving.
Expand Your View
Subscribe to receive information about Port Storage System, plus get workplace insights.

* Please fill in the required fields:
Please fill in the required fields:
Thank You!
We've successfully received your information. You should hear from us soon.

Something went wrong.
Please refresh the page and resubmit your information.