Designed by Ray Wilkes
Wilkes Modular Sofa Group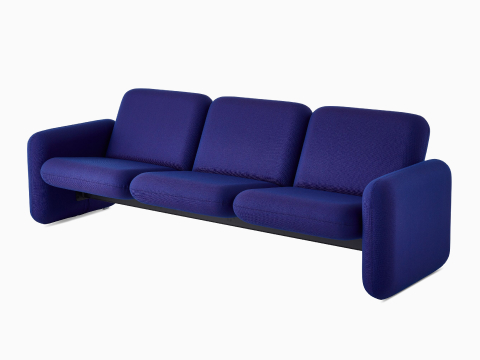 Reintroducing a classic that's versatile, inviting and wickedly self-assured
Designed by Ray Wilkes and first introduced in 1976, this playful, eye-catching lounge seating has made a lasting impression. We've updated the essential post-modern design with power and material options. Everything else we've kept the same, from its injection-moulded foam cushion construction to its integrated table option.
Structured for Comfort
Comfort starts with geometry – specifically the 105-degree angle of the seat and back. Steel brackets that join the seat and back have enough give that each back section can flex independently, providing a surprising level of individual comfort. The final factor? The rounded-edge cushions themselves, likened to the shape of Chiclet gum, which never "puddle" or lose their shape.
Scalable and Suitable
Whether you're looking to inspire collaboration in a casual office setting, make a statement in your living room, or invigorate a student union, Wilkes Modular Sofa Group hits the mark. It comes in a range of configurations, from a single chair to a six-seat sofa, and – the beauty of modularity – you can specify a table instead of a seat unit anywhere along the run. A power option offers additional functionality.
Mod Versatility
For upholstery, you can go full PoMo with bright solids or put an entirely different twist on it with a textile from Maharam. Its distinctive silhouette paired with versatile upholstery options make it adaptable to a wide variety of architectural styles.
Ray Wilkes designs with total simplicity: "It is the philosophy of my life," he says. He designed the modular seating to be minimalist in spirit if not in shape – its iconic form is made possible by the technology that makes it.
Take a Closer Look
There's more to the story of Ray Wilkes and Herman Miller than one famous design.