Designed by Studio 7.5
Cosm Chairs
Instant Comfort, Everywhere
The Chair for You
Its sophisticated ergonomic design instantly responds to your body, movement, and posture to provide natural balance and total support.
Products
Meet Cosm
The sophisticated ergonomic design of the Cosm office chair by Studio 7.5 gives you a new experience of comfort—anywhere you work.
Features
Cosm's Auto-Harmonic Tilt, Intercept suspension, and flexible frame work together to give you a feeling of weightlessness.
No Adjustments Necessary
The Auto-Harmonic Tilt instantly and automatically provides balanced support and movement, depending on your body and posture.
Seamless Support
Breathable and temperature-neutral, the Intercept suspension has a continuous form that eliminates the gap between the seat and back. It conforms to each person's body to provide dynamic spinal support.
Comfort in Motion
The flexible frame is thin but strong and feels nearly nonexistent. It offers support while flexing so you can comfortably move your upper body.
Shop Cosm
Customize your office chair, and buy it for your home or small business.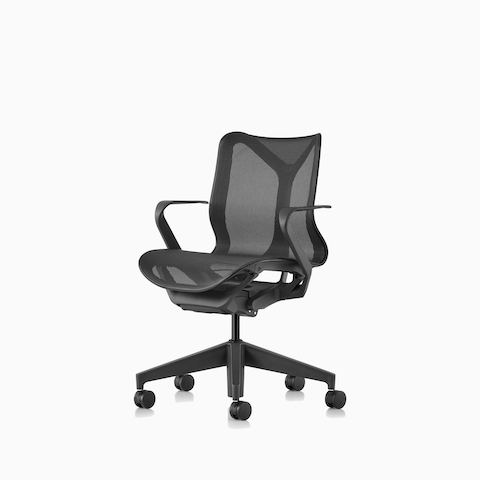 Low-Back Cosm Chair
The low-back, with its wrap top, facilitates casual movement and collaboration.
Mid-Back Cosm Chair
The mid-back provides scapular support and easily adapts to any setting.
High-Back Cosm Chair
The high-back fits like a glove while providing upper-thoracic support.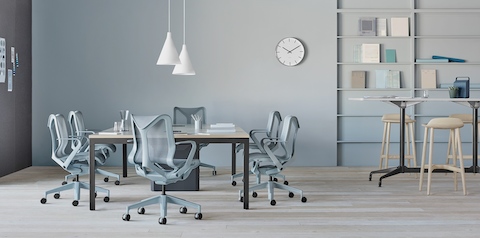 Specify Cosm
Our suite of tools is here to help architects and designers.
The Story Behind Cosm
Studio 7.5's goal was to make sitting as simple and pleasurable as possible.
Connect on Cosm
Fill out this form, and our business team will contact you within 48 hours.
Discover the Versatility of Cosm
It doesn't matter if your employees are 5' or 6'3", or if they're sitting for eight minutes or eight hours. Cosm is the chair for everyone.
Discuss Your Workplace Needs
We want to know more about the type of office you have and help evaluate if Cosm is the right chair for you.
Receive Personalized Application Advice
We're here to offer suggestions on how Cosm can be introduced to your floorplate and what mix of chairs might best suit your space.
Connect to a Showroom or Dealer
We can help you find a place to try a chair or connect you to a Herman Miller Dealer in your area.
* Please fill in the required fields:
Please fill in the required fields:
Thank You!
We've successfully received your information. You should hear from us soon.

Something went wrong.
Please refresh the page and resubmit your information.