Herman Miller brings over 40 years of knowledge to education.
Our approach
At Herman Miller, we work closely with college and university leaders to use places as an asset to address an institution's mission. Our problem-solving, research-driven approach has led us to knowledge and insights that keep us in tune with the needs of education leaders. The solutions we present consider today's pedagogy and create learning spaces that accommodate change, innovation, and evolution.


Products that start with people
We believe the humanity in things—whether it's a product or a purchase order —gives us purpose. That's why our designs are inspired, influenced, and informed by people. Herman Miller is a leader in human-centered design and research and we believe that leadership manifests in the products we offer.


Designs that move people
With a history of studying how people fit and function within their environment, Herman Miller designers have understood the importance of healthy movement. Our products possess ergonomic capabilities so people can teach and learn more productively, more naturally, across a wide-variety of activities, studies, and more.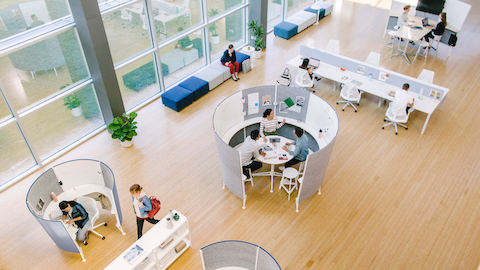 Solutions that serve people
As education—its faculty, students, methods, and environments —becomes more collaborative, it is important that we remain mindful of the need to support a diversity of teaching and learning styles. At Herman Miller, we believe each space must serve students and administrators, as needed. That's why our portfolio of integrated products purposefully offers the variety needed to enhance environments within higher education.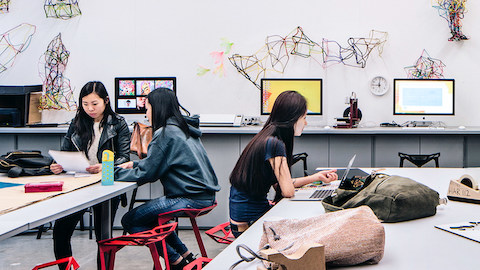 Networks that work for people
Our portfolio of American-made products means you can comply with many state and federal contracts, expect reliable delivery, and experience convenient shipping arrangements. Additionally, we source our materials from a widely diverse supply chain and work with a variety of partners and dealers. Competitive pricing and contracts, along with an industry-leading warranty, give you the ability to equip buildings consistently across campuses and the varied spaces within them.
Prospect fits seamlessly into libraries, residence halls, student centers, and more and gives students a place to work together on group projects or study by themselves.