Applications
Administrative Areas
With the right blend of purpose and human-centered design, your administrative areas can help you optimize real estate, boost your staff's productivity, and foster an engaged work community.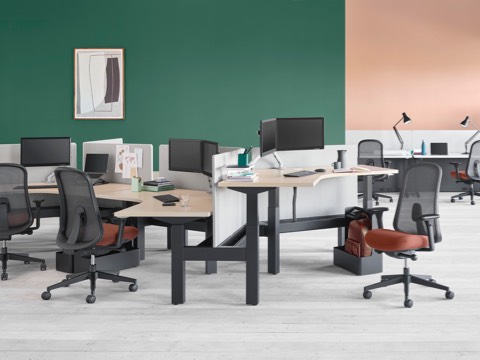 Make the Most of Your Real Estate
Efficient administrative areas can help people be productive and help your organization decrease costs. Space-saving workstations minimize your administrative footprint, but they also can improve people's experience at work by freeing up space for collaborative and social areas that boost team morale. In the competitive, high-cost healthcare landscape, administrative areas that maximize real estate and staff satisfaction are critical to staying in business and retaining valuable talent.
Create a Hard-Working Workplace
Provide the right places and tools for your staff so they can be productive. Flexible, purposeful administrative areas that enable different activities and work styles help your organization run smoothly and efficiently. Even small administrative areas should include places where people can collaborate, use technology, and meet up as a group.
Nurture a Cohesive Culture
A thoughtfully designed administrative area with collaboration and communal spaces can nurture staff togetherness and increase engagement in the fast-paced, ever-changing healthcare industry. Give your people opportunities to connect and foster a strong sense of collective identity—one that can weather both large-scale, organizational shifts and the day-to-day stresses of high-pressure work.
Healthcare Research
Explore the research that helps inform our healthcare ideas and solutions.