Thrive Ergonomic Portfolio
Primed to do more and feel better
By shaping your workplace around people's needs, you provide what they need to be healthy, productive, and engaged. That's good for them, and your business. Our Thrive Ergonomic Portfolio pairs human factors and ergonomics expertise with research-driven products to help you create a work environment where everyone can thrive.
Office Chairs
Every one of our performance chairs is designed to perfectly support the people who use them, so you can focus on the real reason you're sitting in them: to work.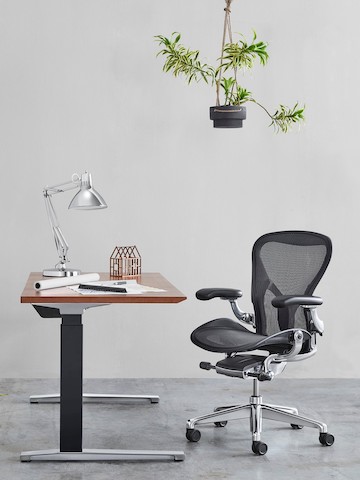 Collaborative Furniture
Create environments where ideas can flourish with collaborative furniture that's designed to make you think less about your space and more about the work you're doing.
Tables
Our performance tables follow your lead when you want to sit, stand, or move, helping you get the most out of your chair and change positions whenever you want.
Technology Support
These ergonomic essentials move with you throughout the day, keeping your body in harmony with your tools in any posture from sitting to standing.
Power Access
Bring power to monitors, computers, and all sizes of devices with power access solutions that let people work when, where, and how they want.
Lighting
Make work easy on your eyes by putting light right where you need it, personalizing it for the specific activity, time of day, and overhead lighting condition.
Desk Accessories
Clear your space and your mind with organizational tools that support the way you work and maximize real estate on the walls and work surface.
Support for the Whole Person
Decades of research inform our insights into the power of space to improve the physical, cognitive, and social experience of work for people.
Help Yourself to Thrive
Visit our online store for furniture and tools that support a more healthful way of working at your home or your office.