Workplace Services
Living Office Settings
Refocus the workplace on people
Outfit your office with settings fine-tuned to people's activities and needs. With your workplace strategy as a guide, we help you specify and seamlessly deploy furnishings and digital tools in settings where people are more efficient and creative.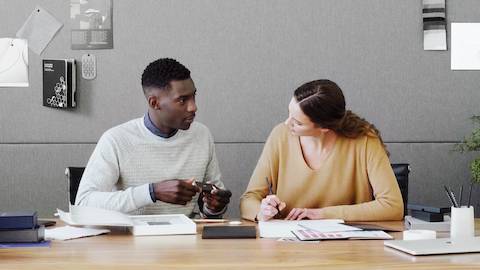 0:55
Living Office Settings
Empower frictionless work
Create an environment that works in harmony with people. We help you achieve this by aligning surroundings, furnishings, and tools so work flows seamlessly in every setting.
Spend smartly with a streamlined process
Save time and money by working with our partners and us to design, order, and install furnishings and digital tools. This efficient process ensures you get only the products people need to accomplish their work and that all components are in sync with one another.
Equip people with intuitive tools
Make work more efficient with the right technology, right where people need it. We partner with leading tech companies to deliver tools customized to people's behaviors and integrated into settings using ergonomic principles.
Logitech MeetUp ConferenceCam and Barco ClickShare allow for optimized remote collaboration experience.
Crestron Mercury allows participants to quickly and easily join a meeting with the single touch of a button.
Refocus Your Workplace on People
Are you considering Living Office Settings for your workplace? Tell us about yourself, and one of our Specialists will contact you.
* Please fill in the required fields:
Please fill in the required fields:
Thank You!
We've successfully received your information. You should hear from us soon.

Something went wrong.
Please refresh the page and resubmit your information.