Crafting Her Ply
Designer Carol Catalano on two decades of experimenting with molded plywood

Written by: Carol Catalano

Artwork by: Lucy Sherston
I went to art school because I love the tactile experience of creating projects in three dimensions. During my education at Rhode Island School of Design, I had ample opportunities to make sculptures, prototypes, and furniture exploring forms in metal, stone, and wood. Once I was out in the world working as a designer, opportunities for that hands-on work that I really loved came less and less. Yet, I found that I craved what it seemed I'd lost, and I looked for ways to pull it back into my design process.
Now, after 30 years in business, I wanted to write about my experience with a material that has always drawn me back into working in a very intimate, hands-on way—molded plywood.
Catalano Design's first opportunity to work with molded plywood came in 1999 on a project that turned into the Capelli Stool, our best-known piece of furniture.
At the time, we were designing many varieties of audio speakers: in-wall, floor-standing, and bookshelf. The work involved months of meticulous coordination with our client's engineers and as this work came to a close, we needed a change. The Asahikawa wood furniture competition caught my attention. In addition to the shift in subject matter, we also decided to create a fundamentally different way of working. Typically, we begin with a client brief that describes the goals for the end product. But here, our only constraint was working with molded plywood with no expectation for the outcome. Inspired by the molded plywood techniques developed by Charles and Ray Eames and the products they designed for Herman Miller, we wanted to experiment with and explore the material for ourselves.
Right away, molded plywood—which we'd never worked in before—lent itself to lightweight, strong, sculptural elements, and we homed in on these characteristics to drive our design development. Designing in this way was liberating because we were our own client, challenging because we fabricated the prototypes ourselves, and richly rewarding as we could experiment with the molded plywood process along the way.
Working so intimately with the material gave us insight into plywood's essential properties—and you can see that in the thin, but strong, fingers that make up the seat of the stool. We tested three or four different thicknesses for the fingers to achieve just the right balance of flex and strength. The design of the stool evolved as we continued to simplify the elements; both halves were identical, they interlocked without fasteners, and the halves come apart and nest together for shipping and storage.
Fast forward six months to us learning that we had won a silver prize in the competition! Upon returning to the US after the award ceremony, two manufacturers expressed interest in making the stool, one from Japan and another from the UK. Then, a well-timed introduction to Ray Kennedy at Herman Miller opened the door for discussions. With Herman Miller's history with molded plywood, they were a clear first choice for a partner. This is where the stool belonged.
As time permitted between paying projects, we continued our exploration into molded plywood techniques. There were a few furniture projects, but none that came to fruition. Laminated wood just wasn't a material that was in demand in the consumer electronics industry. Then, in 2013, we began working on a set of headphones that offered an unusual opportunity.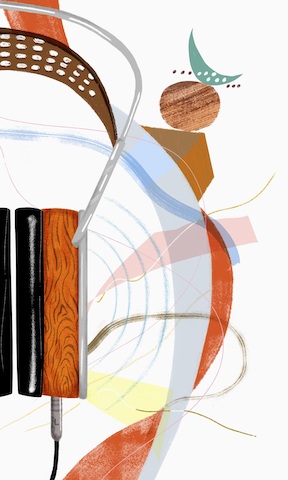 "This seemed like an ideal project for cross pollination, using the knowledge we built working on the Capelli Stool to design laminated wood earcups for high-end headphones."
— Carol Catalano
HIFIMAN's flagship headphone, the HE1000V2, is a very different kind of project than the Capelli Stool. For one, the scale of the product is much smaller, with numerous parts and critical tolerances for fitting them together. Our client was interested in using wood for the earcup chamber because of its superior acoustic qualities, but there were all kinds of manufacturing challenges incorporating solid wood in the assembly. Their previous attempts at using wood resulted in headphones that were heavy, sensitive to humidity, and prone to swelling, shrinking, and cracking.
This seemed like an ideal project for cross pollination, using the knowledge we built working on the Capelli Stool to design laminated wood earcups for high-end headphones.
Our vision was to incorporate molded wood, both for its acoustic and weight advantages, and because its warm, natural appearance complements the nickel-plated finishes and softens the overall aesthetic. We experimented with several methods for creating a molded wood ring—including fusing it to a 3D-printed plastic part—and the chance to get hands-on with the materials was really exciting.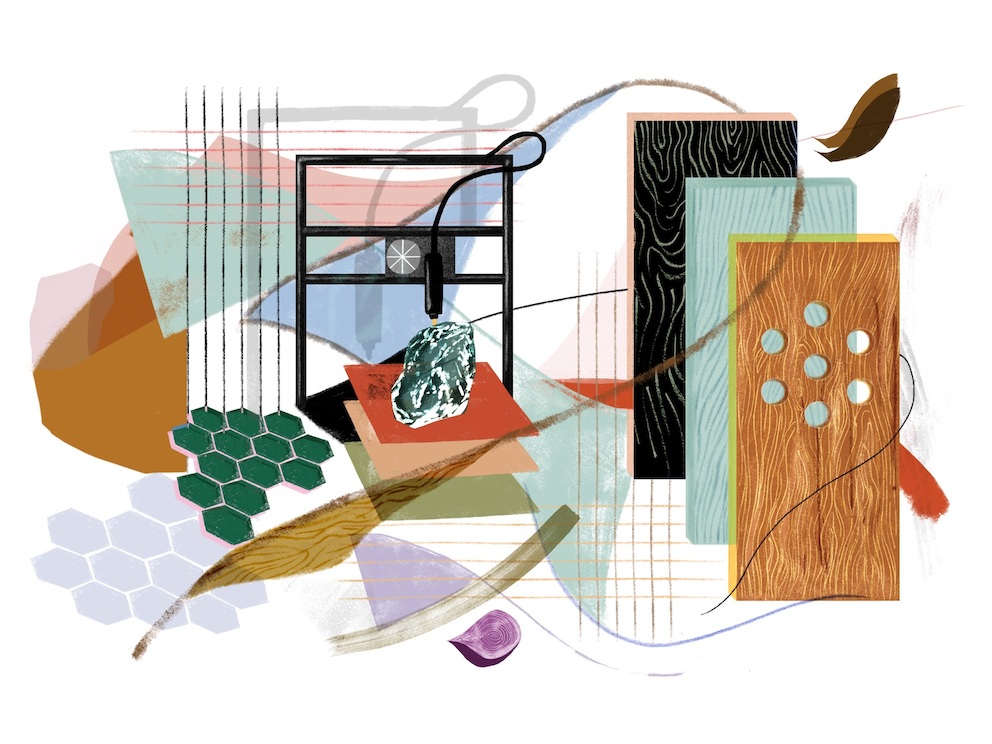 The project was not without its challenges, though. Laminated wood parts at such a small scale are rare in product design, and we soon found out that there were not many resources or established methods for manufacturing them. We couldn't find a vendor that was willing to prototype the part to our specifications, so—back to art school—we decided to create our own manufacturing process. We even taught the factory how to implement it!
The HIFIMAN headphone project piqued our interest in several themes we wanted to explore further, so we carved out time to continue our research. Our experience fusing wood to a 3D printed plastic part made us wonder what else we could achieve by integrating wood directly into the 3D printing process and growing printed parts onto and around laminated plywood parts.
Using our 3D printer, we implemented a technique where we integrate a wood layer, building the plastic part directly on or around it in a way that would be impossible with traditional injection molding. This opens up a whole realm of possibilities for creating expressive printed forms: Imagine a laminated wood seat with an array of mushroom forms placed selectively for ergonomic comfort. Could this replace traditional fabric upholstery?
I liken our process of exploring molded plywood techniques to peeling an onion. With each layer that we remove, new information is revealed, drawing us forward in the process. Currently there are three different directions on our list: Playing with how curvature and thickness can affect spring and flex; embedding conductive elements seamlessly into a printed, laminated piece for lighting or smart product applications; and the idea of no-assembly where elements of a finished product grow out of one another. Who knows what new information will spur us forward as we follow these exciting leads?