Tour de Design
Take a two-wheeled, insider view of the best design in Boulder, San Francisco, and New York

Written by: Aileen Kwun
Ernest Hemingway once wrote that, "It is by riding a bicycle that you learn the contours of a country best, since you have to sweat up the hills and can coast down them." Whether sweating up the hilly Victorian-lined streets of San Francisco or coasting through the dense grid of Manhattan skyscrapers, we couldn't agree more with old Ernest. The saddle of a bike offers a singular way to absorb the flavors and textures of your surroundings.
We've always admired cycling apparel brand Rapha's commitment to performance and design, so it was only natural to team up and bring our mutual love of cycling and cities to life. Over the course of the summer and fall, we're putting on Herman Miller Design Rides, a series of design and architecture tours in six cities across the country, each led by a local design expert. With three rides in the books already—don't worry, there are still three to come—we spoke to our respective ride leaders about what cycling means to them, the connections between biking and design, and why, for them, urban exploration means a helmet, pedals, and handlebars.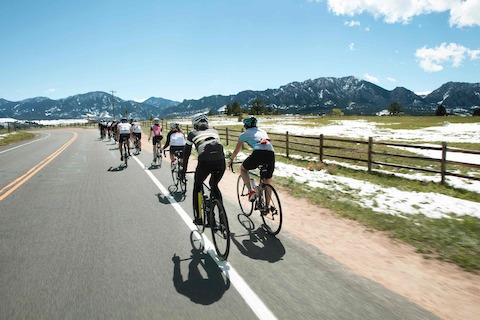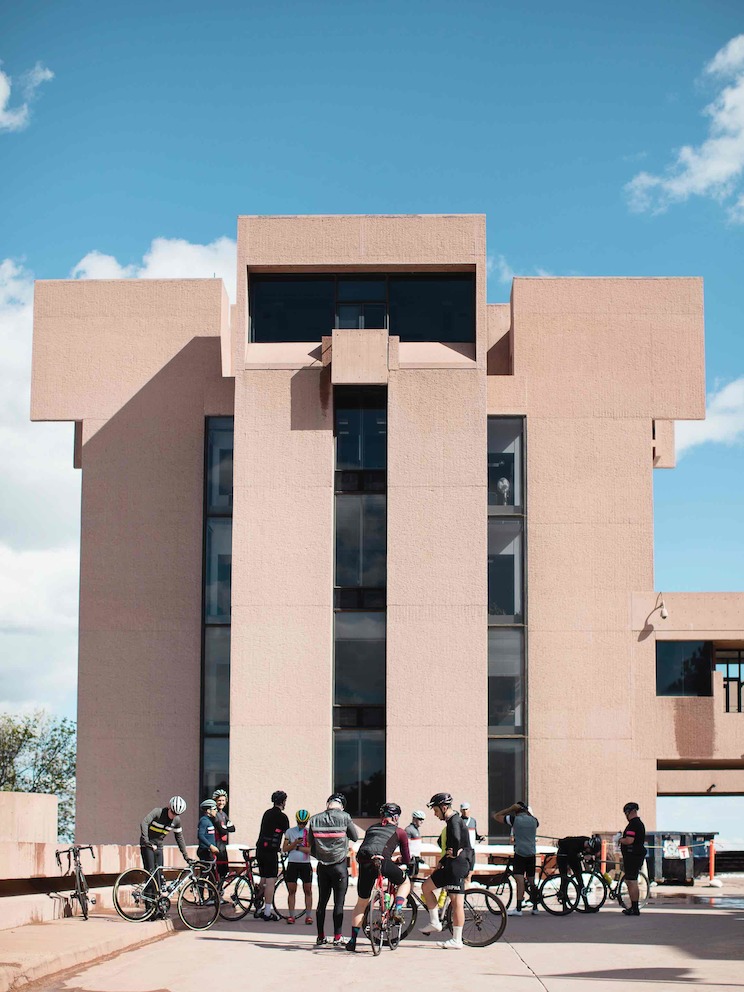 "Biking is my very favorite way to travel, both in my own city and whenever I'm elsewhere for work or pleasure, and Boulder was a ton of fun and a great city to start," says Ben Watson, Herman Miller's Chief Creative Officer and an avid cyclist. "The ride began with an absolutely quintessential Coloradan experience: 18 to 40 inches of snow the day before, then temps in the 60s on the day of the ride. We were all there for what we called one big 'rolling' conversation. We wanted to see a cross section of design that takes place in the Boulder area."
Stops included a visit to Mosaic Cycles, a design/build workshop for custom bicycles where, according to Watson, "product design happens on a bespoke level," as well as the National Center for Atmospheric Research. "The structure stands alone on this plateau, and it was really the first signature building completed by I.M. Pei when he first opened his studio. It's made of cast concrete that was colored a pink color with local native limestone, and even had a starring role in Woody Allen's Sleeper from the late sixties. It's modern and Colorado all at the same time—with a definite mountain twist."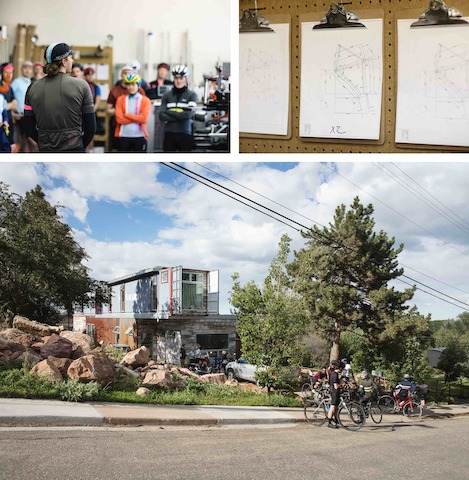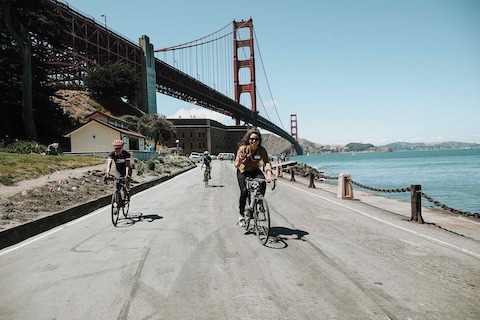 San Francisco, California


"I think about a bike as a tool that gives you access to a city, to a community," says Rob Forbes, our San Francisco ride leader and founder of Design Within Reach and PUBLIC Bikes. "I like to ride and revisit the real basic sights that tend to get overlooked on a daily basis. Design is all around you. Behind everything that you see and has been built, there's some human intent—looking at things from a design perspective is about getting people to appreciate that."
Forbes's expansive view of design included visits to iconic museums designed by Renzo Piano and Herzog and de Meuron in Golden Gate Park and a visit to Crissy Field, a swath of greenery that once served as an airstrip but is now a vast front porch to the San Francisco Bay and the Golden Gate Bridge. Forbes and his riders wound down the day with tasty bites and mezcal at Tacos Cala in Hayes Valley, "itself a great design space that has also reimagined Mexican cuisine," notes Forbes, who is of the opinion that "making food, too, is absolutely a form of design."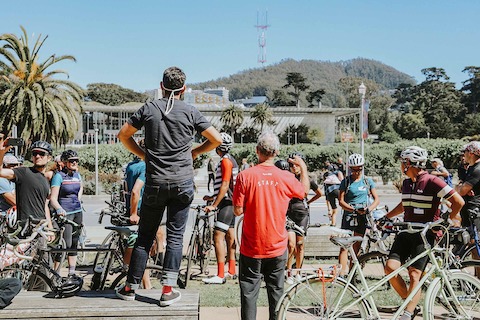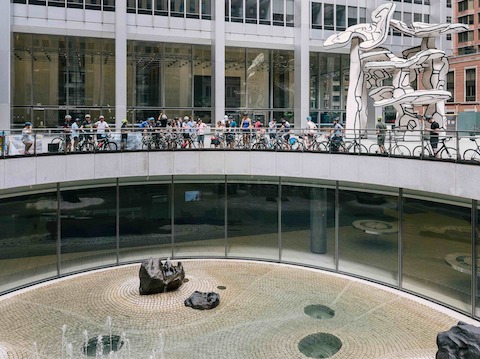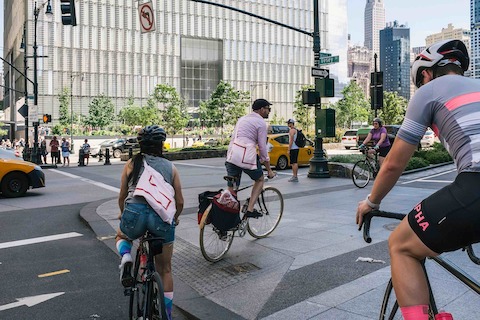 "In New York, you leave one place and you're directly in another. It's compact and intense," says New York ride leader Michael Sainato. Creative Director at Design Within Reach, Sainato teamed up with architect Andrew McGee to lead riders to a series of lesser known gems—a tour they refer to as "the spaces in-between."
"Andrew noticed all these really interesting public spaces in Lower Manhattan that a lot of people weren't aware of, which are less about landmarks and more about looking closely at these unique spaces that were created for various reasons." Zoning laws, which once allowed architects to build taller if it involved the introduction of public space, resulted in plazas that include Isamu Noguchi's subterranean Sunken Garden at the foot of the Chase Manhattan Bank tower and an unexpected oasis nestled in the bustling Financial District.
"You can't be biking with your eyes on the ground, you've got to look straight ahead. In a city like New York, biking makes you much more observant, and allows you to go down routes or paths that you might not normally take," says Sainato. "There's an element of forced exploration. It just heightens your senses all around."