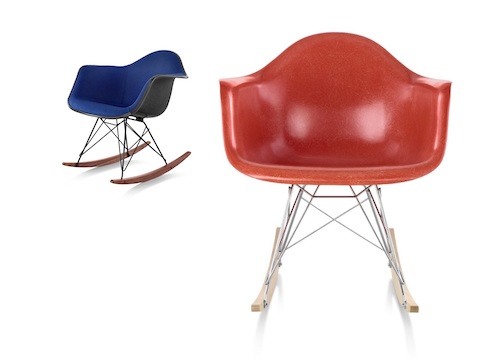 IMPORTANT SAFETY NOTICE
Eames Molded Fiberglass Rocker Recall
Herman Miller Inc. has learned that the base of the Eames Molded Fiberglass Rocker can separate from the seat shell, posing a fall hazard to consumers. Therefore, in cooperation with the U.S. Consumer Product Safety Commission and Health Canada, Herman Miller is recalling all models of Eames Molded Fiberglass Rockers manufactured from May 1, 2013 through September 8, 2017. This recall applies only to the Eames Molded Fiberglass Rockers, Model Numbers RFAR and RFAR.U; see photos on this page. No other chairs or products are affected by this recall.

What you should do:
To determine whether you have a product that is part of the recall, please verify key information on the manufacturing label. To view the manufacturing label, carefully set your Rocker upside down and review the label. Check to see if the manufacture date is during the recall period (from 05-01-2013 through 09-08-2017). Check to see if the model number begins with RFAR or RFAR.U. If both of these conditions are met, the product is included in the recall. IMMEDIATELY STOP USING THE ROCKER and contact Herman Miller for instructions on how to return your Rocker and receive a full refund.

Since labels evolve over time, we've provided examples here to show where you can find the necessary information on the manufacturing label.

Model number
FO number
Manufacture date
If you prefer, you can send us an email at recall_info@hermanmiller.com. Please list "Rocker Recall" in the subject line and provide the information requested in the form above. You can also call us toll free at (866) 866-3124 from 9am-5pm ET, Monday through Friday.
For more information about the recall, please see the following joint press release issued by the CPSC and Herman Miller and the joint notice issued by Health Canada and Herman Miller:
CPSC and Herman Miller press release
Health Canada and Herman Miller notice
We apologize for any inconvenience this may cause, but our customers' safety is of the utmost importance to Herman Miller.