Designed by George Nelson
Nelson Ball Wall Sconce
Elegant form, soft light

Variations on an essentially spherical form, the Bubble Lamp series is a distinguished and timeless George Nelson design. The Nelson Ball Wall Sconce is designed with a swivel hinge and an adjustable plug-in cord, allowing easy movement of the lampshade without readjusting it on the wall. In 1952, a set of Swedish hanging lamps were introduced into the American market, and George Nelson was impressed enough to want one for his office. Their expensive price prevented him from buying one, but also inspired him to design his own. Soon after, a collection of pendant, sconce, tripod, table, and floor lamps was born.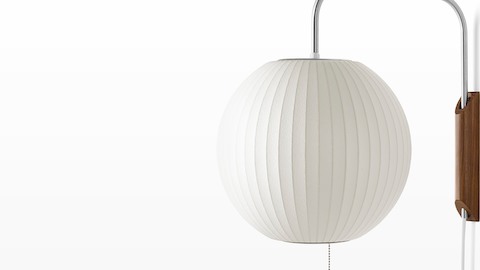 Herman Miller Collection
A permanent collection designed to meet fully the requirements of modern living.