The refined design of the Wishbone family frees space on your work surface while allowing you to position your screen at the proper distance to ease neck and eye strain.
A combination of robust engineering and precise controls on this computer monitor arm allow you to position one or several screens exactly where you need them, then trust that they won't budge an inch.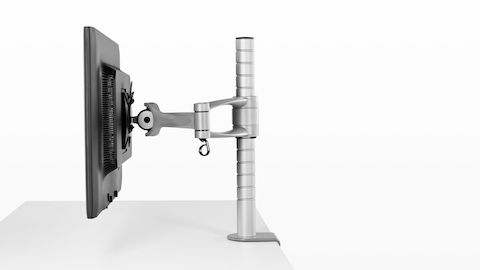 Scalability

Designed for scalability, Wishbone keeps your options open to add additional equipment as your needs evolve. A single post can support up to four screens, giving you the reassurance that Wishbone solutions can grow at the same pace as your need for technology. The Flo Power Hub adds three convenient USB ports, including one designed for fast charging. It's available on surface clamp-mounted Wishbone Monitor Arms holding up to two monitors.
Solid design

The heavy-duty construction of Wishbone allows you to place your screen in exactly the right place for your eyes and the work you do—and then be confident that it will stay in that position. The Wishbone family is robustly engineered to support even today's heavier monitors without succumbing to gravity's pull. Set it once, and rely on it to help keep your body aligned in a healthy posture.
Range of applications

Wishbone provides a sturdy, uncluttered way to hold anywhere from a single monitor today to as many as four screens tomorrow. All Wishbone monitor arms can be attached to a variety of surfaces, positioned at a range of heights, and configured in either portrait or landscape orientation.