Designed by Jack Kelley and Robert Propst
Co/Struc System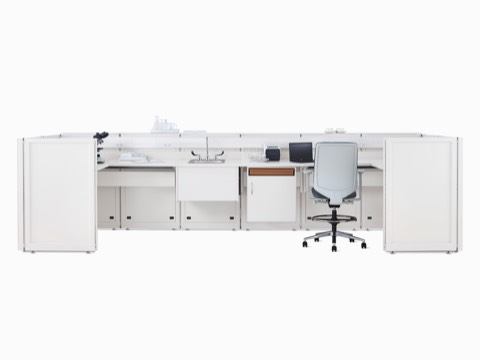 Efficient, thoughtful response to inevitable change
Co/Struc is the most flexible, movable, modular system for healthcare and laboratory applications. Components can be switched with ease, making this system work hard for healthcare organizations.
Keep It Organized
Co/Struc keeps healthcare environments like laboratories and pharmacies organized, with interrelated, interchangeable components that meet the needs of the spaces and the people within them. From drawer organizers to mobile storage, this healthcare system makes organizing easy, so efficiency naturally increases.
Make It Last
The durable finishes and materials that make up Co/Struc withstand the harshest chemicals. Use this modular component system of structures, storage, surfaces, and casework in any high-traffic space that requires intense cleaning—the high-grade materials can handle it.
Specs
View the dimensions, materials, features, and available options for Co/Struc System.