Designed by David Ritch and Mark Saffell
Nemschoff Ava Recliner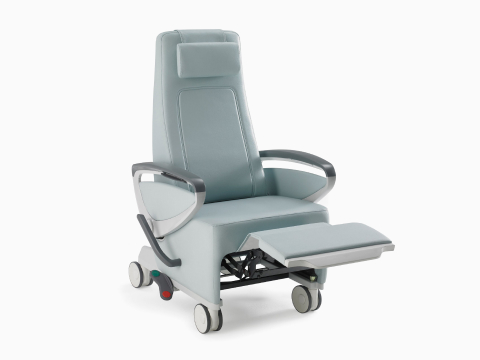 Not your average hospital recliner
The Nemschoff Ava Recliner is an inviting seating option for patient areas. Comfortable, compact, and mobile, it is inspired by extensive research at the core of this design. Its scale, function, flexibility, and ease of use make it a practical choice for healthcare environments. Affixed to closed casters for optimal mobility, it gives off clear visual cues for braking and steering. Available in an arcade back or wingback design.
Comfortable and comforting
In a healthcare setting, having an option to recline gives patients or guests a chance to relax, relieve stress, or just get comfortable. The Ava Recliner is designed to give comfort to both mind and body.
Made to be easy
Infinite back adjustments, easy-to-use controls, and reverse recline make the Ava Recliner well-equipped to provide the comfort and support patients need. Pivoting arms and dual-arm controls allow users of various abilities to recline in comfort.
Maximum maneuverability, minimal footprint
Designed to move about in close quarters, the Ava Recliner can be maneuvered to suit changing situations, environments, and preferences—in large or small areas.
Specs
View the dimensions, materials, features, and available options for the Nemschoff Ava Recliner.