Designed by George Nelson
Nelson Cube Sofa
Carries the day, at work or at home
The striking Nelson Cube Sofa is a study in the dichotomy of hard and soft. For his 1968 design, George Nelson paired an architecturally rigorous wood frame with soft, tufted cushions for low-key lounging. As relevant today as when it was first introduced, Cube is a design that sits beautifully in the living room or the office.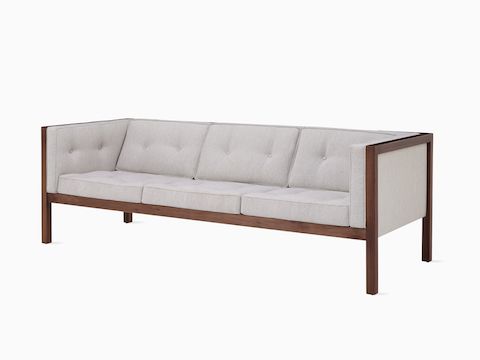 Hard lines and a soft touch
Nelson's design juxtaposes the firm lines of the wooden frame with pliable seating and a gently angled seatback, providing an equal measure of give and support. Square cushions are tufted and framed with piping, adding warmth and visual variety.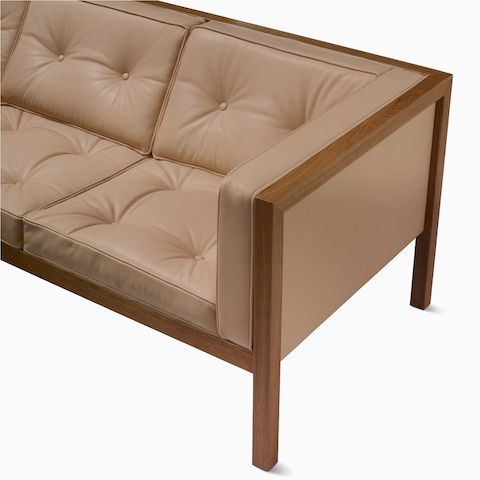 Inclusive of function and place
Structured enough to support an upright work posture but with supple cushions that encourage sinking into it with a book, the sofa traverses the boundary between work and home with ease. It's available in two lengths, as well as a variety of textiles and finishes. Pair a dark finish with leather or velvet for a handsome office lounger or lighten the aesthetic with a white oak finish and a wool blend textile for a sunroom sofa.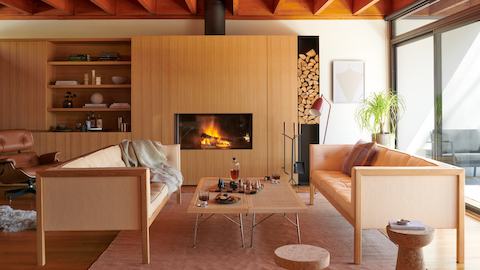 Quintessentially Nelson
Prescient as well as practical, Nelson thought the experience of work would improve if the workplace was like "a daytime living room where work can be done under less tension." Through its suitability to the office and home, streamlined design, and craftsmanship—all hallmarks of Nelson's designs—the Cube Sofa has retained its relevance, earning its bona fides as a true classic.
Specs
Dimensions, materials, details, and available options that make up the Nelson Cube Sofa.