Designed by Studio 7.5
Zeph Stool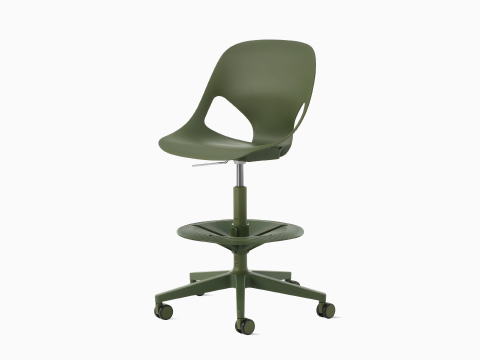 A classic silhouette with modern ergonomics
The Zeph Stool finds a happy home between the sunny optimism of mid-century modern aesthetics and the science-backed ergonomics of today's work chairs. Its advanced yet simple design offers more for less—more comfort, colors, and style—made with fewer components and at a price that makes it the perfect entrée into the world of Herman Miller high-performance seating.
Move with the Kinematic Monoshell
Setting out to animate a shell chair—not an easy feat—the designers at Studio 7.5 used 3D printing to iterate through prototypes of the monoshell until they achieved what they deem a gold standard in ergonomics: a recline that feels natural in a chair that moves with you. The geometry of the design allows your body's pivot points to create the right counterbalance for a proper ergonomic sit—an experience that leaves you feeling supported and energized as you move in the stool, and about your day.
Change it up with 3D Knit
The stool's optional, removable, and interchangeable 3D Knit easily slides directly into the shell, no tools required, and can be swapped out for one of the other 20 textile color choices if your space needs a refresh. Plus, it's made from 50 percent post-consumer recycled content, and because it's knitted to the chair's exact dimensions, there's zero fabric waste.
Find joy in color
The playful eight-color palette for the Zeph Stool's shell and base was designed to complement and enliven the home, office, college campus, or anywhere in between—allowing you to get creative in pairing the stool with your unique sense of style. Enjoy the return of dipped-in-color, one hue from top to bottom, which debuted on Zeph predecessor, Cosm.
Specs
Dimensions, materials, details, and available options that make up the Zeph Stool.
Coming soon: a full family
Stay tuned for even more ways to customize your Zeph Stool, including additional base and knit options.
Berlin-based Studio 7.5 found the initial inspiration for the Zeph Chair with the help of the students at the universities where they teach. Eventually, their iterative design process led to an entry-level chair that doesn't compromise comfort or style, and one that bridges the gap between Herman Miller's iconic mid-century designs and the ergonomics of today's work chairs.