An essential ingredient in tailoring individual workspaces
Tu Storage is a modernized and personalized take on storage that accommodates the items people actually use. It keeps things for working and living nearby, so people have a more personal connection to their work and the workplace. In that way, Tu is an essential ingredient in tailoring individual workspaces to best support the work people do.
From utility to lifestyle
Tu is particularly comprehensive in its material offering. Metal, laminate, and veneer finishes pair with metal and wood cases in a range of combinations. This visual versatility allows Tu to take on appearances from highly functional to warmly residential, allowing it to work in nearly any interior.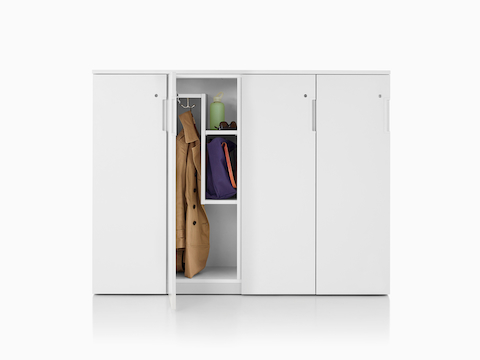 Works well with others
Tu Storage works well in all kinds of settings. It provides storage options for both individual and team needs. And it's a fitting complement to our entire portfolio of work system solutions. Used with these solutions, Tu goes beyond providing personalized storage for working and living to create boundary between workpoints and provide guest seating.
Not too much, nor too little
Tu Storage gives people what they need and nothing more. By avoiding excess, Tu brings focus to storage as a place for workplace essentials, extending its capacity beyond the handling of papers and files. Its efficient design results in a footprint that maximizes the use of floor space at an affordable price.