Above Ground Level with Leon Ransmeier
Designer Leon Ransmeier and photographer Geordie Wood take to the NYC streets to discover the essence of everyman's table.
Written by: Leon Ransmeier
Artwork by: Geordie Wood
As much an exploration into the thinking behind his new AGL Table Group as it is a musing on the design process in general, Ransmeier's observations, recorded from a conversation, and Wood's accompanying images serve as a testament to the ways in which people react both positively and negatively to design (or a lack thereof) and intrinsically accommodate themselves to the places in which they live and work, which today, are more boundless than ever.


IN SITU
Ergonomics, as a science, came more or less out of goodwill for human beings to make things that were designed to accommodate bodies. But sometimes more is needed. The only way you can actually create objects that are truly meaningful for people is by experience. We adapt our bodies and lives around the objects that we have, and that is an important thing to consider. Of course, when you are involved in the design process you ask a lot of questions. Why are objects shaped a certain way? Why are they used that way? How could they be more beautiful or comfortable? Learning how to look and being observant is one of the most important things about being a designer.
In the studio, we have an unofficial list of funny things everyone in the Western world has an opinion about—things like, sofas, French fries, and dogs. Tables are not on the list because they are so ingrained in our lives—sitting at a table is such a fundamental part of our Western posture. The reason people have an opinion about sofas is because sofas are about comfort, and everyone has an opinion about that. Tables are also about comfort, but that comfort is specific in relation to our body proportions and the size of the chairs that we sit in. For example, the standard height for a dining table or desk is derived from its relationship to the chair, which is derived from the distance of your knees to the floor when you are in a seated position. So you could say that the height of a table has evolved out of the length of people's shins.

Furniture is incredible in the sense that, when you walk into an empty new apartment, you almost don't know what to do with yourself. It's not until you sort of walk around in a circle and sit down on the floor that you can relax. A lot of the world sits on the floor or on a carpet, and it works well for them. In many ways, we fabricate our needs. As Westerners, we've become so accustomed to chairs and tables that they become a necessity. Recently, I spoke to a designer who told me his firm had put lounge-type collaborative areas in some of the spaces they had designed for clients that ended up being removed because the clients couldn't get their work done without tables. People need that surface. An architectural office without a huge table is unthinkable. You have to have somewhere to put the drawings!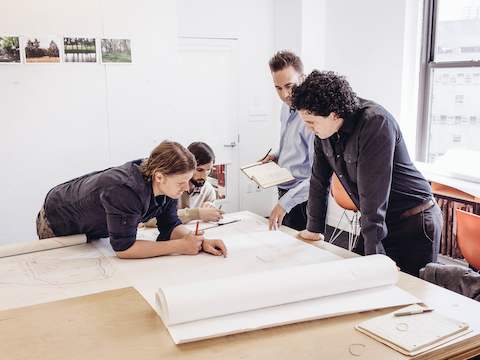 ADAPTIVE SURFACES
The thing about furniture is: if it is not one thing, it is another. If a chair is not used to sit in, it becomes a table, and if the table is not used as a table, it becomes a seat. We took the Staten Island Ferry in search of tables but there are almost none. For that reason, we inadvertently found a reason to talk about tables, because every flat surface—even if it is tiny—ends up getting used as a table. It's just an example of how, in a public setting, if there is a flat surface, it is going to collect debris.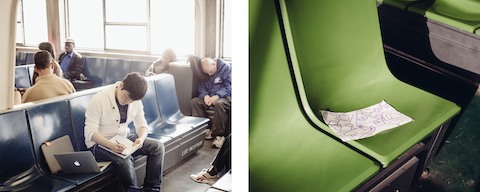 In New York City, there aren't many places where the public can gather and use tables and chairs. There are a lot of benches and picnic tables with built-in benches—but those are fixed and less flexible. A table with freestanding, lightweight chairs that can be moved around is a very different experience, and you don't often see it in public spaces. The New York Public Library is such an elegant, incredible piece of architecture with such well-made furniture, and it's one of the rare places where you can find a number of people just sitting and reading at tables. It is also home to one of the most beautiful tabletop power outlet covers I have ever seen—made from inlaid brass. But of course, it required them to cut a hole in the middle of the table! Many of the large powered tables on the market have holes cut in them, but once you cut a hole in the middle of a table, it will never be the same. It's much nicer to think about a table as an uninterrupted surface. It is more pleasant. [Tabletop power sources] also encourage a lot of visible wire mess, and the power supply to your computer has nothing to do with your experience of using it; it shouldn't necessarily even be in your peripheral vision—you touch it only to plug it in.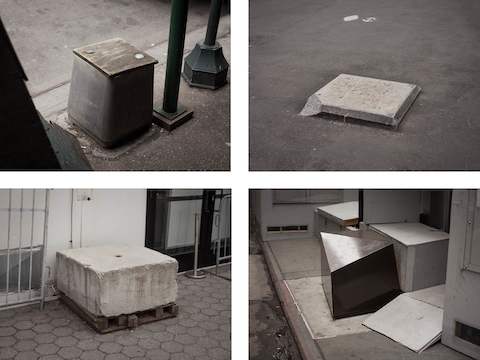 For AGL, the primary goal of bringing the outlet tray to the edge of the table is to create an access to power in the personal space of the user and to do it in a way that is intuitive, comfortable, and useful. If technological advancements to batteries and charging make plugging in obsolete, we can take off the trays and the table is still useful. After all, we are not going to stop needing tables any time soon.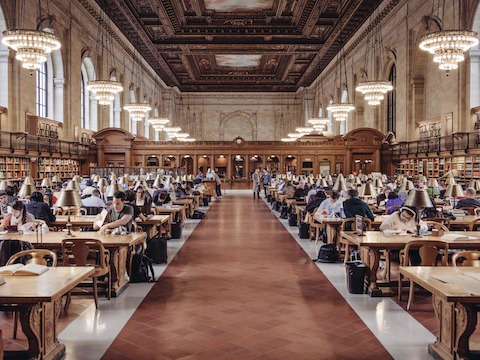 THE REALITY OF THE VIRTUAL DESKTOP
I'm always amazed that people can sit in coffee shops and write dissertations and theses. Personally, I like working in my office—I like to have my books. I like to have my desk, my computer, my tools. For a lot of people, though, all they need are some earphones and a flat surface upon which to place their computer. The simplicity of that is admirable, and it says a lot about our bodies and about the technology we have designed. The laptop is a beautiful thing, but it doesn't really work well on your lap—it gets hot and uncomfortable. We ought to call them compact tabletop computers instead of laptop computers, because in order to work truly efficiently on a laptop you need a table. An iPad is really a laptop.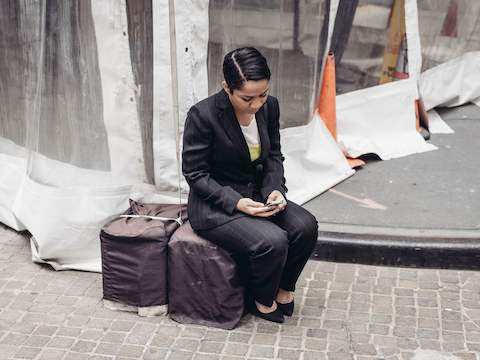 In a way, when a person is sitting on a surface, cradling an iPad, she's taking her desktop with her. I saw a lecture by Bruce Sterling at the Eternally Yours conference in Holland in 2003, and at one point he said technology is shaping us to the point that now kids are pushing elevator buttons with their thumbs. I thought that was interesting. The gesture of a person cradling a device like a tablet or smart phone is probably less than 10 years old and now almost universal. She is not using a table, but rather, she is creating her own.


With technology or computer items, the form is less important because the interface is digital. You can make a computer shaped in any number of ways, and yet perhaps due to conservative, marketing-driven design teams, they all look very similar. The form of furniture is driven much more by its relationship to the body. It's hard to hide a chair, and some people have tried. When things are a certain height or size and a specific proportion, you know what they are and you will use them. Even if it hasn't been designed for a given purpose—even if it is a rock on the side of the street—we accommodate ourselves.