Groomed for Growth
How do you create a Living Office? To answer this question, WHY followed one company's journey from a headquarters that was hindering its growth to a workplace where its people and business could prosper. This is part one of a series.

Written by: Mindy Koschmann
Artwork by: Geordie Wood
People are the single most important asset to every organization, yet many of today's offices aren't designed to support their needs and activities. With Living Office, Herman Miller offers a new kind of workplace, one designed around a research-based understanding of people, the work they do, and the tools they need to succeed.
It was only 11 AM on a Thursday at the headquarters of the shaving product start-up Harry's, but from the sound of things, it could have been 11 PM at one of the many neighboring bars or restaurants in New York's Soho neighborhood. The walls of the conference room where Scott Newlin, Director of Product Design, and Jenni Lee, Director of Brand, Marketing, had convened didn't extend to the ceiling, so the noise from the adjoining space—a cavernous loft with rows and rows of people working side-by-side at benches—was carrying over. The exposed air ducts above were roaring, and a long-broken window was banging open and shut, open and shut.
On this late December morning, the chaos was both distracting and exciting, an indicator of the company's rapid rise to success. In just two short years, Harry's had grown from two guys with an idea for redesigning the entire shaving experience, to a staff of 65 with a customer base of over 500,000 and growing.
The company's growth had been so fast-paced that its surroundings had, out of necessity, become an afterthought. In the packed 3,000-square-foot open floorplan, business analysts squinted at spreadsheets alongside chatty customer service representatives, and product samples and packaging materials spilled over into the reception area. Everyone seemed focused on helping Harry's thrive, but this overstuffed office was actually limiting its potential for growth.
"We had this guy come in for an interview who loved the company, but said that he didn't think he could work in the space," said Newlin. "For me that spoke volumes. We need to be able to use our space as a tool for saying that this a cool place to work, that we want the best people, and that we've created the best environment to get those people."
The close quarters were not only cramping Harry's ability to compile the kind of talent it needed to grow, they were also inhibiting employee satisfaction, efficiency, and ultimately, achievement. Hours were lost sending emails back and forth to schedule meetings in the single conference room, and people were forced into the outside hallway or stairwells for private conversations and phone calls.
Clearly it was time to make a move. Midway through 2014, Newlin and team found a 26,000-square-foot-space in Soho and engaged Brooklyn-based architectural firm Studio Tractor. To outfit the space, they hired WB Wood, chosen for their work with Herman Miller to create Living Office environments for clients. Founded on a research-based approach to understanding people and their work, Living Office seemed like a natural solution for Harry's, which relies on data from frequent surveys and outreach efforts to make sure its customers and employees remain satisfied.
Herman Miller has long been concerned with designing for people and their evolving needs at work. In the 1960s, Robert Propst's studies of how the world of work operates led him to conclude: "today's office is a wasteland. It saps vitality, blocks talent, frustrates accomplishment." His solution was Action Office, an adaptive system that fit the way people really worked and could easily change as the needs of people and organizations evolved.
Today, Herman Miller is collaborating with thought leaders and designers to apply a deeper understanding of people to today's workplaces. This work has revealed six fundamental needs that all people share: purpose, belonging, achievement, autonomy, status, and security. When these needs are fulfilled in the workplace, people are better equipped to help their organizations succeed.
Herman Miller created Living Office to help organizations better fulfill fundamental human needs. Using a research-based Living Office Discovery Process℠, trained specialists help organizations identify their purpose, character, and activities—or what they offer the world, who they are, and what their people do, respectively. Insights gained from this process can be used to inform the design of a Living Office that reflects an organization's unique culture.
For Harry's, this process was led by Living Office Specialists James Cesario and Jennifer Abbattista. Over two days, employees convened for focus groups in the company's lone conference room—an apt reminder of why it needed to move to a new office.
ON PURPOSE
Fueled by lunches, the groups started out with a discussion of purpose—their mission, as well as the ideas, products, and services that define the exceptional value they offer. This first step is important because it helps organizations make decisions about design investments that will help them realize their purpose.
Cesario noted that for many companies, this is a challenging step that requires hours of work. Harry's had an easier time articulating their purpose: to offer a great shave at a fair price.
"We've always been aligned on where we are headed, from the founders on down to the guy that started yesterday," says Newlin. "I don't know how unique that is, but for me it's been really great because it's only taken us a year and a half to go from zero to 100 miles per hour."
"We had this guy come in for an interview who loved the company, but said that he didn't think he could work in the space. For me that spoke volumes. We need to be able to use our space as a tool for saying that this a cool place to work. "
- Scott Newlin
GETTING INTO CHARACTER
The second step in the discovery process is determining character—the unique set of values and traits that set a company apart from others. Understanding character can help organizations create workplaces that express who they are, and help them progress toward what they want to become.
To do this, the focus groups used colored dots to plot out where they thought the company landed on various character spectrums. Were they more Formal or Informal? Independent or Interdependent? Uniform or Diverse?
Dot clusters formed near the words informal, adaptive, and self-directed—all traits that described the current state of Harry's character. At the same time, dot clusters formed on the other end of the spectrum, near the words formal, consistent, and directed. These dots represented the desired future state—a more structured, organized company that inhabited a more structured, organized office.
Findings like this are significant because many businesses today tend to believe an open office is a panacea for improving engagement, attraction, and retention. Abbatista said this is only the case for certain companies.
"Younger companies typically crave a little more structure, while more established organizations usually need to push the needle in the opposite direction," said Abbatista. "It's all about understanding your people and creating a place that works for them."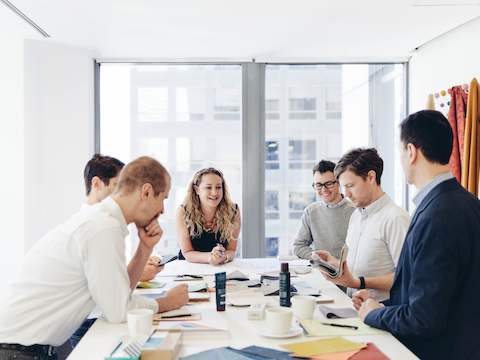 ALL ABOUT ACTIVITIES
The third step in the process—prioritizing work activities—is critical because it helps an organization develop a clear picture of the work its people and groups are doing every day, and whether or not its space is helping or hindering these activities. Once you know which activities are the highest priorities, you can make important decisions about allocating office space to best support people and their work.
For Harry's, this part of the process led to the most debate.
"We spoke with leaders on all of the teams—from engineering to customer service to graphic design," said Cesario. "These groups are naturally going to look at work differently. They have different needs, and this gave them an opportunity to make their case about what they need to best do their work."
To help people easily identify the type work they do, Living Office provides a framework of 10 distinct collaborative and individual activities, based on global research. Using brightly colored sticky notes with modes of work, the focus groups completed a matrix identifying high and low priority activities that were either supported or unsupported by the current space.
The groups generally agreed that small spontaneous gatherings and quick conversations—Huddle and Chat in Living Office parlance—were an important part of everyone's work at Harry's. But groups including the creative team, who needed some privacy to effectively do and think about their work—Create and Contemplate, respectively—were completely unsupported by the space.

"Today there are no boundaries," said Newlin. "We need spaces to collaborate, but we also need spaces where we can work alone and have a few hours of quiet. If our new space balances these things, I think we will be more productive."
"Today there are no boundaries. We need spaces to collaborate, but we also need spaces where we can work alone and have a few hours of quiet. If our new space balances these things, I think we will be more productive."
- Scott Newlin

SETTING UP OFFICE
With a clear view of the activities that were most important to each of its teams, Harry's was ready for the final step in the discovery process—choosing the settings that would best support its work.
Living Office provides 10 diverse settings optimized for individual and group work. The right mix of these settings—strategically positioned throughout an office landscape—can help people and businesses do their best.
For the Harry's focus groups, this step involved a Settings Decision Tree—an interactive digital tool that uses yes/no questions to determine the settings that will best support the activities that are most important to them. Then the groups explored possible layouts for their space. These layouts included a mix of group and individual settings, including dedicated team Hives that help people easily transition between individual and group work; adjacent Coves where small groups can gather for discussions or project work; and Havens, or private settings where people can retreat for phone calls or focused work (no more stairwell conversations!).

These settings scenarios would help guide the architects and designers as they planned the layout for the new office—a process that WHY will explore in the next article in this series. Check back soon to see how the insights gained from the Living Office Discovery Process℠ were realized in an office that's helping the Harry's team work better, and is attracting the talented individuals who will help the business grow.