Sustainability Snapshot
How Herman Miller is helping design a greener world

Written by: The Editors

Visuals by: Elena Boils and Travis Stearns
There aren't many problems bigger, more complex, or more important than taking care of our environment. At Herman Miller, we've been thinking hard about how to do business as sustainably as possible since our founder, D.J. De Pree, challenged us 60 years ago to be good citizens and good stewards of the environment. And we've kept at it, chipping away year after year, always using the same problem-solving approach that we use when designing products. As D.J. famously said, "In the long run, businesses and business leaders will be judged not by their profits or their products, but by their impact on humanity." At Herman Miller, we see our impact on the environment as a huge part of our impact on humanity. When we put together our Better World Report for 2017, we had a chance to take stock of how we're progressing toward our goals, and what we've done lately to solve our biggest problems more sustainably. Here's a look at how we're doing.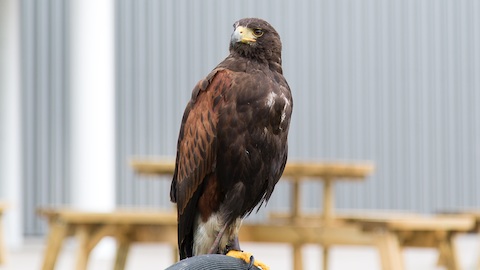 We Design with—Not Against—Nature



Two hundred seagulls nesting on the roof of our new Herman Miller facility in PortalMill in the UK were literally making a mess of things and interfering with the rooftop rainwater collection system needed for flushing toilets. So we brought in some muscle (and feathers)—Willow.
A trained Harris hawk who patrolled the Olympic Stadium in London during the 2012 Games, Willow came to our facility with a handler every day for a month, which was long enough to convince the seagulls to relocate. The birds "aren't as dumb as you think they are," says Willow's handler. "They say, 'I'm not nesting here' after getting a few good looks at Willow." Even so, Willow still comes once a month just to make sure they don't change their minds.
We Recycle Even Our Competitors' Furniture
We're passionate about keeping furniture out of the landfill, which is why we design and build ours to last. So when we work with clients to fill their spaces with Herman Miller goods, we also work with them to keep their old furniture from hitting the scrapheap. Our rePurpose program does just that: In 150 cities across the U.S. and Canada, rePurpose helps customers send used furniture and other assets to deserving nonprofits. Thanks to the participation of major companies like General Motors, John Deere, BP America, Shell Oil, and Adobe, we have diverted more than 27,000 tons of product from landfill since we started the program in 2009, and together we've generated $18 million in charitable, in-kind donations.
27,000 tons of product diverted from landfills
Million generated in charitable, in-kind donations
We Find Second Acts for Our Fabric Scraps



In the past, we had more fabric scraps than ideas for how to use them. But on a trip to Haiti in 2015, one of our employees had a light-bulb moment. Upon seeing women sewing items for the Gift of Hope Program, the job-creation arm of the Haiti Foundation Against Poverty (HFAP), she realized that our fabric leftovers could be put to impactful use.
Back home, she and her colleagues figured out how to route Herman Miller fabric scraps to the seamstresses, reducing their costs and keeping more of our scraps out of landfills. This story comes full circle in a lovely way: We sell the products they make to our employees. In addition, two of our partners—Milliken & Co. and Subassembly Plus—have also begun to send materials to Gift of Hope.
In 2016, we saw the 10-year anniversary of the marriage between the Eames Lounge Chair and santos palisander. The Eameses' original design of the chair called for the shell to be made of rosewood. But by 1990, it had become clear to Research Manager Bill Foley that the Brazilian rosewood we used wasn't sustainable, and he recommended that Herman Miller stop using it.
It was a controversial idea for many reasons, including our commitment to the integrity of the design. "Charles Eames. . .was a very autocratic designer, damn good, but it was his way or no way at all. And he said, look, that chair has got to be made in rosewood," then-CEO Dick Ruch said.
Eventually, management agreed with the proposal, at first substituting walnut and cherry and hoping sales wouldn't suffer. "It was a very visible action that was based on a very long-term environmental conscience of the company—true stewardship of the earth," said Foley. Several years later, we switched again, this time to santos palisander, which looks like Brazilian rosewood but is a sustainable alternative. We think Charles would approve.
Company
Sustainability Snapshot 02
We Chase Audacious Environmental Goals
We Chase Audacious Environmental Goals



Running an environmentally sustainable business isn't a sprint, it's a marathon. To make sure we're hitting our splits, we've set big goals to eliminate waste from our facilities, borrow the water we need and manage it well, reduce energy intensity, and use renewable forms of energy. We call those goals our Earthright strategy, a ten-year journey of continuous measurement, assessment, and improvement.
As you can see, we've got some pretty ambitious goals. For example, we're gunning to produce no waste for the landfill by 2023. We beat our 2016 goal of creating 276 tons of waste by seven tons. And in 2017 we're aiming to get that down to 147 tons.
We Make It Easy for Architects to Go Green
One way to be a good steward of the environment is to make it easier for others to do the same. In 2016, we launched Ecomedes for Herman Miller, a web-based calculator and product database that gives architects and designers an easy way to see the environmental attributes and certifications of Herman Miller products. "For us, Ecomedes is about being transparent and making it easy for others to pursue their environmental goals," says Scott Charon, DfE senior program manager, noting that architects and designers can use it to grab the data they need when applying for certifications for LEED, WELL, and other programs. The site includes Herman Miller, Nemschoff, and Geiger products.

We Launched a Healthier Aeron
The new Aeron "is really a chair of today, and of tomorrow, as well," says co-designer Don Chadwick. Part of the reason is that when we set out to re-master and relaunch the Aeron in 2016, we made it healthier. It's three pounds lighter and it's earning it a slew of sustainable certifications: Cradle to Cradle V3 Silver, BIFMA level 3, and GREENGUARD Gold. Aeron is as good for you today as it is for our tomorrow.

To read more about Herman Miller's commitment to our people, our products, and our planet, check out our 2017 Better World Report.