Designed by Jerome Caruso
Celle Stool
Dependable and hardworking
Celle Stool
Dependable and hardworking, Celle Stools fit a wide variety of people and spaces. An extension of the Celle Chair design, these stools also feature Cellular Suspension, a highly engineered system of polymer cells and loops that support and respond to different areas of the body. The system also lets air flow through to prevent heat and moisture buildup.
Design Story
The Celle chair began in the imagination of designer Jerome Caruso. Caruso was the first designer at refrigerator manufacturer Sub-Zero, and has been their principal designer for more than two decades and is responsible for the company's entire line of refrigeration units. But the Celle chair, he smiles, was the "Mt. Everest of fun. At the beginning, I imagined a highly engineered, 'intelligent' surface that could be the ultimate in seating comfort."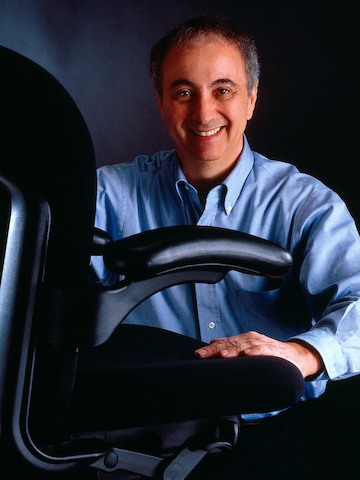 From an ergonomics standpoint, Celle follows the lead of our Aeron and Mirra work chairs, with five ergonomics issues integral to the design of all three:
Size and fit. Anthropometric data from CAESAR (Civilian American and European Surface Anthropometry Resource) and other sources was used to ensure that the chair fits many different body shapes and sizes.
Pelvic stabilization. The Celle backrest has our integrated, passive PostureFit contour.
Kinematics. Our proven Harmonic tilt mechanism was applied to Celle.
Pressure distribution. Throughout Celle's development process, we used our pressure-mapping capabilities to inform the design of the cellular size, flex regions, and contouring.
Thermal comfort. Special temperature sensors, called thermocouples, were used to evaluate upholstery options and inform textile selection.