Storage that evolves as your needs do
Meridian's strength lies in its ability to evolve as an organization's needs change. Its modular elements are attractive and versatile, allowing you to stack up, break down, and move around to create spaces where individuals and groups have the support to do their best work, both now and in the future.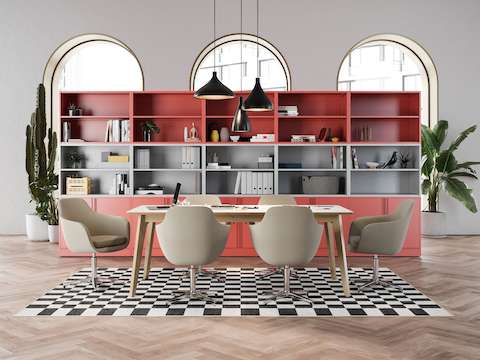 Where form meets function
Meridian allows you to make storage decisions now, and in the future, thanks to interchangeable modules in a variety of sizes and configurations. Make it your own with a wide offering of paint, laminate, and veneer finishes—whether you want it to blend into your space or stand out.
A place for everything
With Meridian Storage, there's something for everyone—a place for both work and personal items, mass and archival storage—and everything in-between. Multiple configurations and styles, from small storage like shelves and trays to larger wardrobes, lockers, and storage units, mean that you can mix and match based on your organization's needs.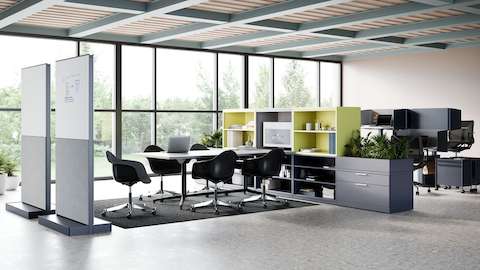 Create defined spaces
Creatively combine Meridian Storage elements to shape defined spaces and pathways that allow people to focus and collaborate—all without having to make permanent changes in open offices. Options for wardrobes, lockers, storage units, and drawers—as well as mobility and power—add to Meridian's utility. The hardworking design means that it can even double as a seat, with cushion-topped options.

Products
Meridian Storage Modular Design
ee how Meridian offers organizations multiple filing and storage possibilities, from open offices to private workstations. Create defined spaces for collaboration and focused work—and everything in between. Meridian Storage evolves as your needs do.
Products | 2:25
Meridian Storage
Modular design that reconfigures in a snap
Specs
Dimensions, materials, details, and available options that make up Meridian Storage.