A simple solution requires a deep understanding of complexity
Canvas reflects our belief that achieving a simple—and adaptable—solution first requires a deep understanding of complexity.
Herman Miller has been involved in workplace design since the 1930s, with desks designed by Gilbert Rohde. George Nelson and Charles and Ray Eames designed desks, files, and other workplace furniture for us in the 1940s and 1950s.
In the 1960s, the Quickborner Team in Germany developed the radical concept of Burolandschaft, or office landscape, as an organizing principle for work spaces. And in 1968, Robert Propst and the Herman Miller Research Corporation completely changed the paradigm of office furniture with the groundbreaking Action Office system.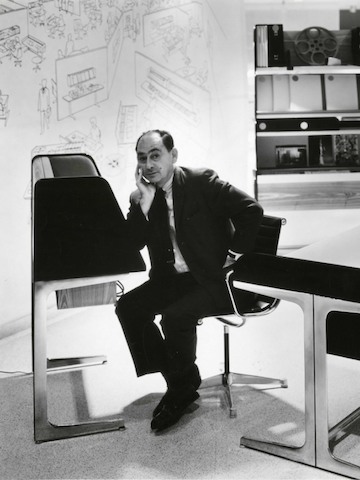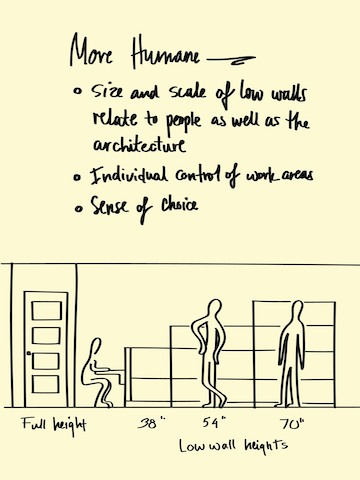 Over the next few decades, we developed other systems furniture solutions, each with its own characteristics, each based on the changing needs of our customers.
With the new millennium we came to realize our customers needed a furniture solution that was holistic and integrated and that provided a simple way to furnish all the usable space on a customer's floorplate. Our research between 2001 and 2003 concluded that systems furniture met the needs of workers in assigned spaces well but that more solutions were needing for unassigned spaces.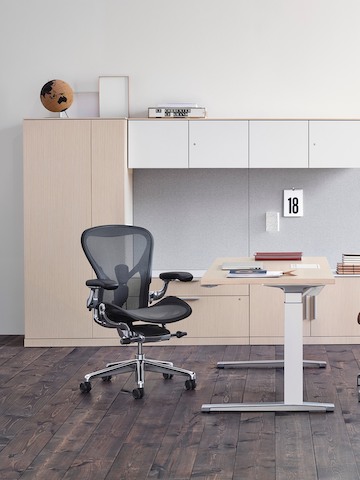 In addition, we found that designers and architects increasingly sought to express the differing characters and cultures of organizations. Office space needs were changing, as they always do. The importance of community spaces was growing rapidly, and the needs of work teams were increasing and going pretty much unmet.

Out of that research came the beginning of the idea behind Canvas, which started as a combination of the research we had done, existing systems designed by Doug Ball and Joey Ruiter, and new designs from Jeffrey Bernett and Nicholas Dodziuk of the New York firm Consultants for Design Strategy. The challenge for Bernett and Dodziuk was to incorporate two existing Herman Miller lines to create a cohesive "kit of parts" solution for individual workspaces, ranging from private offices to open plans.

Bernett and Dodziuk were an ideal team to tackle the assignment. The two have worked together for many years at CDS, and their backgrounds include a wide range of projects, from airline seating to graphic design to consumer products. And they both love working on furniture. Bernett says that with any project, "The end-user needs always come first: Who is going to use or want this and why? Of course, there are performance criteria as well; and then the question becomes: How are we going to manufacture what we are working on?"