Designed by Charles and Ray Eames
Eames Coffee Table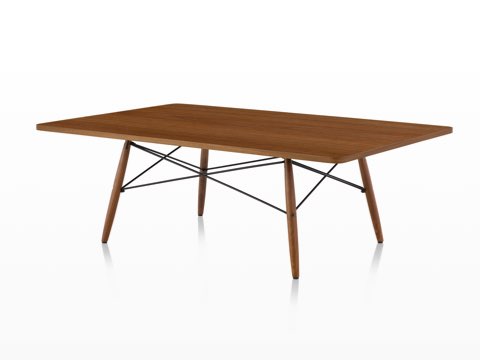 The coffee table Charles and Ray Eames designed for themselves
Eames Coffee Table
A reintroduction of the coffee table Charles and Ray Eames designed in 1949 for their Pacific Palisades home, the Eames Coffee Table features a wooden base with metal cross-struts reminiscent of the wood dowel option on Eames Shell Chairs. Working closely with the Eames Office, keepers of the Eames design legacy, Herman Miller replaced the original rectangular top, which was covered in gold leaf, with more practical options. The Eames Coffee Table is now offered in a choice of square or rectangular tops, both of which are available in a selection of natural materials—veneer, marble, or solid wood—that add to its elegant charm.
Design Story
By analyzing the fundamental dilemma of any situation, Charles and Ray Eames started each project from a place of pure problem-solving. Then, fueled by a passion for addressing everyday human needs and a boundless enthusiasm for experimentation, they dreamed up beautiful, simple solutions that remain relevant decades later.
Consider the 1949 design for their Eames Coffee Table. Originally designed for a cozy nook in their Pacific Palisades home, the rectangular table featured a top that was covered in gold leaf and wood dowel legs with bent wire supports like their shell chairs that went into production the following year. Over the following years, Charles and Ray produced two more versions of the table with marble tops, but the design would not go into commercial production until 2017.