The first desk designed with task chairs in mind
The late Bill Stumpf and his design partner, Jeff Weber, have been responsible for many of the imaginative leaps that have produced our most innovative solutions. Bill designed the first ergonomic task chair, Ergon, introduced in 1974, and the Aeron chair. Jeff designed the Caper chair. Together, they designed Embody, the first health-positive task chair.
Embody began with Bill's and Jeff's awareness of an unsolved problem: the lack of physical harmony between us and our computers. They thought of the small universe that encapsulates the office worker—the "envelope"—as consisting of three parts: chair, surface, surround. While working on their radical idea that a chair could do more than just minimize the negative effects of sitting and could actually have positive effects on the seated body, they became acutely aware of the problem of the static surface.
They wondered why people—even when sitting in the best ergonomic task chairs—still had a tendency to hunch over. Bill and Jeff realized that, because the surface has always been disconnected from the chair and the person who sits in it, the different postures the person assumes continuously throughout the day disrupt the relationship between the face plane and the computer plane. The result was neck and shoulder strain and pain.
As they worked to develop the Embody chair, they began to rethink the whole concept of a desk. Why did it have to just sit there? Why did computer users have to manually move their laptops, keyboards, pointing devices, and monitors around, trying to maintain the right position and angle? Why couldn't a desk do that?
Envelop became Jeff's project, and he was responsible for most of the work that produced the final product. It represents both a great leap forward in ergonomic design and a logical continuation of Bill and Jeff's ideas about the body in work postures that had been guiding them for years.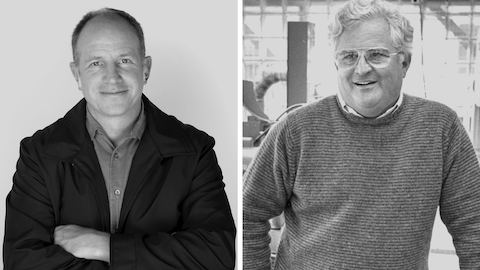 Envelop desk and Setu chair receive Interior Design magazine's Best of Year product awards.

2009

Envelop desk and Setu chair receive Interior Design magazine's Best of Year product awards.