Designed by BassamFellows for Geiger
Leatherwrap Sit-to-Stand Desk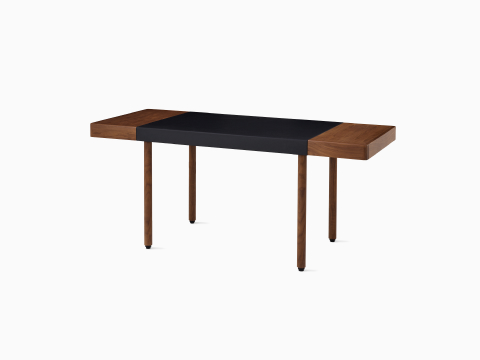 Raise your expectations for height-adjustable desks
The Leatherwrap Sit-to-Stand Desk by Geiger marries proven ergonomics with impeccable construction, premium details, and residential appeal wherever it's used—private office or home office. At first glance, Leatherwrap is a classic four-leg table desk. With the touch of a discreet button, however, four thoughtfully concealed motors work in unison to extend the veneer-wrapped legs, enhancing the desk's warm, approachable form with surprising functionality.
Customized for each customer
A choice of left, right, or double storage drawers and left, right, or center cord drop location provides flexibility.
That's a wrap
All desktops are wrapped in premium leather.
Never felt better
Optional storage drawers are lined with Spinneybeck FilzFelt for a premium finished look and feel.
Specs
Dimensions, materials, details, and available options that make up the Leatherwrap Sit-to-Stand Desk.