Designed by Jess Sorel
Nemschoff Palisade Flop Sofa
A place for family and friends
The Palisade Flop Sofa creates a dedicated and thoughtfully equipped setting within the patient room to encourage family and friends to participate in the healing process. Designed for round-the-clock use, the Flop Sofa converts from a sitting area to a separate sleeping surface quickly and easily. Optional technology support and added surfaces respond to the needs of guests while maintaining an efficient footprint.
Keeping the guest in mind
Thoughtfully designed features support the daily activities of guests whether they are socializing, relaxing, working, eating, or sleeping. Optional table and integrated technology support keep guests connected.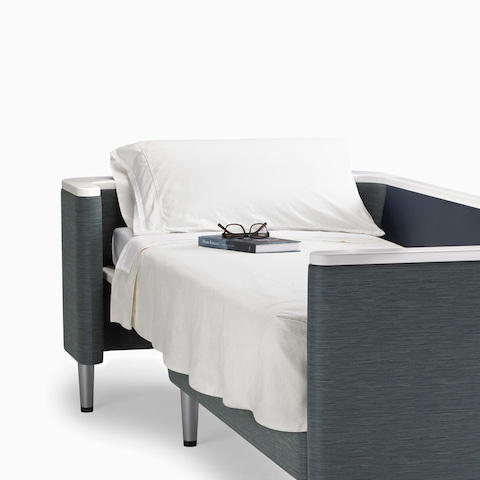 Comfort in every detail
When families are accommodated, the patient is more comfortable and can focus on healing. Guests enjoy the support of the spring seat construction no matter if they are sitting or lying down. The back flops down for a comfortable sleep surface while maintaining an efficient footprint in the room.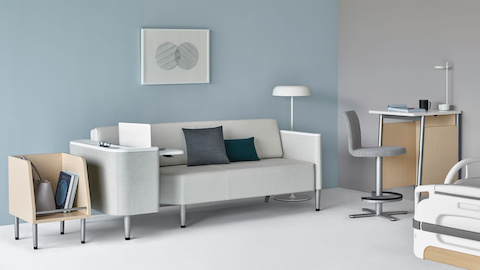 Integrate coordinating pieces
The Palisade Collection can outfit patient areas to waiting rooms with cohesive features that are welcoming and accommodating. Coordinating products like the Tote, Daystand, Mobile Table, and Stool are designed to anticipate the needs of families and guests in the patient room.
Specs
View the dimensions, materials, features, and available options for the Nemschoff Palisade Flop Sofa.
"My hope is to have a positive impact on transforming people's experience in the context of healthcare environments."
A Complete Collection for Waiting Areas and Patient Rooms Alike
Discover all the ways Palisade can work for you.